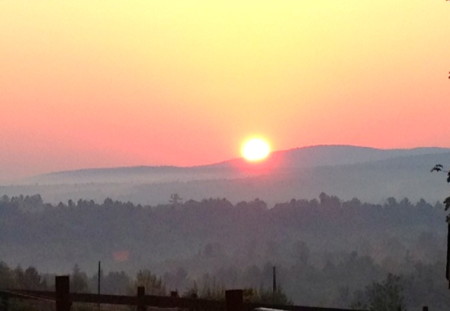 Iwas outside at dawn this morning, as I've been most days this summer. Standing in the wet grass, watching the molten, majestic sun slide from behind the mountain into a rose-colored sky, two thoughts occurred to me at exactly the same time: Life is still hard. And it's more beautiful than ever.
The hard things are easy to list. They've been running on an endless loop in my head through every sleepless night this week: An ongoing conversation with my younger son that keeps ending badly. The helplessness of not knowing how to make things better. Worries about the other son as he wraps up a summer job he's loved and embarks on a new life chapter. A slightly frayed, unraveling edge in my marriage — and not knowing how to mend that, either. The piles of things around the house that I should have cleared away by now and the to-do list that doesn't ever seem to get any smaller. The familiar, nagging sense that I'm spread too thin, letting too many people down, not doing enough or being enough or giving enough.
Wakefulness takes its own toll, as if exhaustion has peeled off a protective layer, leaving me a little more raw and vulnerable than usual. I am less resilient and resourceful; more prone to sudden, silly tears, frustration, anxiety. I do an interview over the phone, make a birthday dinner for my dad, hand-write a stack of letters, pay the bills, read a bound galley that needs a blurb, call to congratulate a friend who's just finished writing her book, sort the laundry, sweep the floor. I try again with my son. Take my husband's hand. Pick flowers for the table and bake scones from scratch. Take a deep breath, and then another. Take a run. Smile at a stranger on the street. These are all good things to do. And yet. My mind feels not quite all here. I'm tired. And it's still hard.
And beautiful.