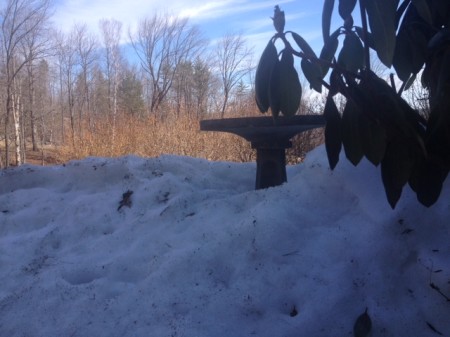 I'm still waiting for the last snow bank to melt outside the back door.  My guess is it'll linger, grainy and gray, for another week or so.
I suppose I could get out there today and attack winter's last frozen carapace with a shovel. If I got that mound of snow and ice all broken up and spread out on the flattened, spongy lawn, it would probably disappear faster.
Instead, I look at winter's grimy remains and see an invitation to pay attention. The lingering, slowly dwindling snow bank reminds me once again: nothing lasts.  Even the harsh, seemingly endless winter I complained about and struggled against for months is finally on its way out, its last vestiges vanishing by the moment.
On this windy, chilly spring day, it's too early to do much of anything productive outside.  And so, I walk around and survey the wreckage: the old front gate, broken off at the hinge, the fallen tree limbs, the cache of dead leaves in the window wells, the skeletal remains of the Christmas tree on the patio, the dead hydrangea blooms I never got around to pruning in the fall.   [continue...]