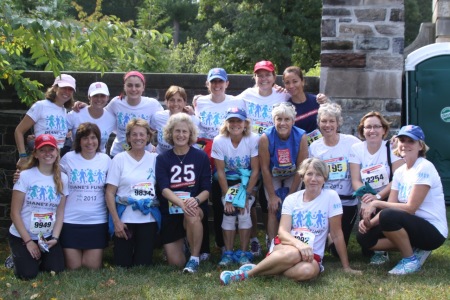 On September 21, for the fourth time, the members of Team Diane participated in the Boston Marathon Jimmy Fund Walk. And then, as always happens, life came rushing right back in, and I didn't get to write the blog post I'd planned for the next day. But what stands out in my mind even now, two weeks later, is one over-arching feeling: gratitude. And I realize that even as I walked I was making a mental list in my head. Writing it down just now, it was hard to stop at 26. What was I grateful for? Well, among other things:
You! My dear friends, your words of encouragement and support filled my soul and gave wings to my feet. "Thank you" doesn't begin to express my gratitude!
You, again. Thanks to your generous donations, I exceeded my own fund-raising goal this year. But more importantly, all the money raised by our group – over $30,000 this year alone — goes directly to Dana Farber oncologist Dr. Ursula Matulonis and her team of researchers, dedicated to finding better treatments for women's cancers. Together, we're making a real difference, improving the odds for every woman being diagnosed or treated today.
Team Diane! I feel blessed to be a part of this spirited band of women walking arm-in-arm for a cause that's touched all our lives.
Marching orders. How proud our friend would be to see that we're carrying on this work she herself began with such passion. This was the legacy Diane hoped for and the instruction she left us with: To live our own lives fully, and to do whatever we can to ensure better futures for all women with ovarian cancer.
Husbands. You know who you are: the ones who willingly got up at four in the morning and caravanned on the Mass Pike out to Hopkinton to deliver the members of Team Diane to the starting line. And my own husband, Steve, who not only took photos from start to finish but trailed along the route as sweep, ready to offer a ride to any one of us who needed to bail out. Hats off to you guys!
The heavens. They opened, the rains poured down for a solid hour and then, as if by magic or grace, the skies cleared at 6 am. We balled up our un-used slickers, tightened our sneakers, and put our hands together for a "Go Team" salute.
My new chiropractor. "No, it's not a pulled muscle," she said a few weeks ago, when I first arrived at her office, after limping with a mysterious hip and leg injury for over ten months. "I'm pretty sure it's referred nerve pain from your L1 vertebrae, and that you'll feel better after I adjust you." She was right. I did. (Still mending, but at least I'm walking without wincing.)