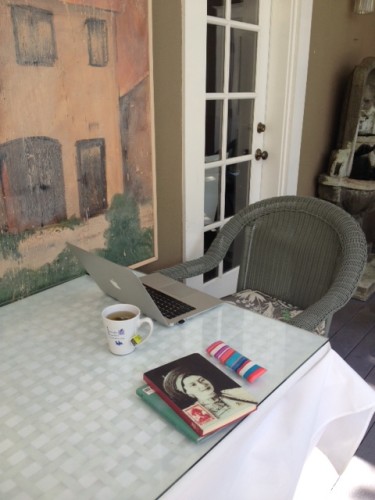 I've been fascinated, over the last month or so, to read so many of my favorite bloggers' answers to the following questions about their writing process.  (Don't we all want to know what inspires the writers we love to do what they do?)
Today, thanks to Nicki Gilbert's invitation, it's my pleasure to hop on this train and try to put my own writing into some kind of context.  And it's an even greater pleasure to introduce three fellow writers I consider among my must-reads, Jeanne Henriques, whose gorgeous photos and vivid descriptions of her ex-pat life give rise to all sorts of fantasies; author Beth Kephart, who writes about books and the writing life with sustained insight, eloquence, and passion; and Amy VanEchaute, new to the blogging world and already accruing many devoted readers at her exquisitely executed site My Path With Stars Bestrewn.
 A little background. . .
Fifteen years ago, when my two sons were small, I found myself haunted by a lack I couldn't even name.  I had a steady editing job I could do from home, babysitting help during those working hours, a comfortable house in the suburbs, two precious little boys and a husband I loved.  A "good" life.   And yet I juggled all the balls – mothering, working, household chores, activities, socializing, going and doing and getting – with a sense I was missing something essential. As my children grew and entered school, as I got busier and our days more complicated, this inchoate longing only intensified.
One afternoon, while sitting on the sofa with my five-year-old son, crocheting mitten strings as snowflakes drifted past the window,  I finally realized what this painful yearning was: a desire to inhabit my own life more fully. Not to do more, but to be more.  To have more quiet moments just like this one. And so I began systematically, and a bit ruthlessly, to simplify our family life. I also began to write about it.  Having spent years as a literary editor, I never imagined myself as a writer.  But suddenly I had something I wanted – actually, needed is not too strong a word here – to say. I needed to remind myself, again and again, what kind of person I wanted to be and what kind of life I wanted to lead.
Writing demanded that I sit still and pay attention.  It required time, reflection and, most of all, a confrontation with my innermost self.  If I really wanted to inhabit my life, it seemed, then the best way to do it was to slow down enough to notice the details.  And then, by subtle alchemy, something inside shifted. As I began to shape words, the words I wrote began to shape me.  [continue...]