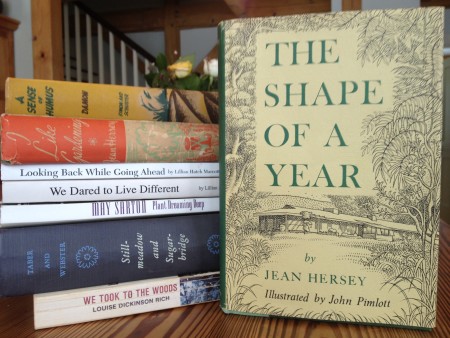 It's snowing again, for the third time in a week. In New England, and certainly here in our part of New Hampshire, it's a season of enforced respite from the comings and goings of our busy everyday lives. We can fight the weather (not much of a contest there!), or we can embrace the challenge of an uncompromising northern winter, layering on fleeces and wool socks, planning ahead, slowing down. I choose to acquiesce to this season of storms, keeping more food in the refrigerator, making pots of soup and chili that last for days, shopping less, driving less, snowshoeing more, writing more, reading more, gazing out the window more.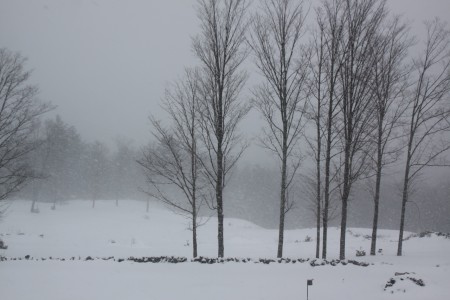 This morning, it's pretty wild outside — a bitter, relentless wind drives vast, swirling curtains of powder across the meadow and sends silent clumps of snow crashing from tree limbs. With the temperature dropping steadily and the snow already hip deep, it would be easy to view yet another four or six or sixteen inches of snow as an annoying inconvenience. But I'm seeing this latest storm as a muffled blessing, an invitation to stay put today—no place to go and nothing to do, at least until the roads are cleared.
Looking up from my stool in the kitchen, I spot the empty bird feeder swinging in the wind and a sturdy cardinal, all puffed up and hunkered down in a nearby snowdrift, bright as a jewel against the blanket of white, patiently waiting for his breakfast. We all need to eat.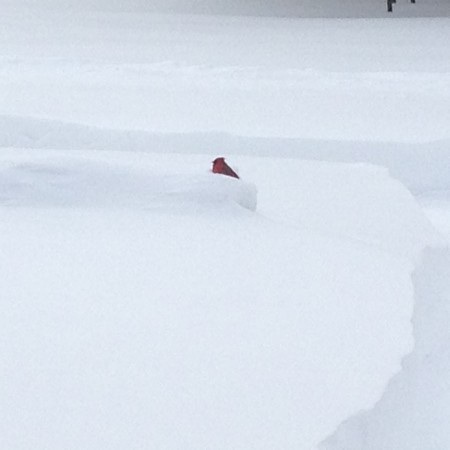 I slip on Steve's tall black boots to trudge out and fill the birdfeeder, scattering some extra nibbles along the top of the snow-covered stonewall — a sunflower seed buffet for the squirrels and the jays. A pair of chickadees arrives before I'm even back to the door, the two of them too hungry to be shy. I stand there quietly for a moment, close as I dare, to watch them take turns plucking seeds from between the wires. But my fingers are already numb with cold. I'll skip the long walk today.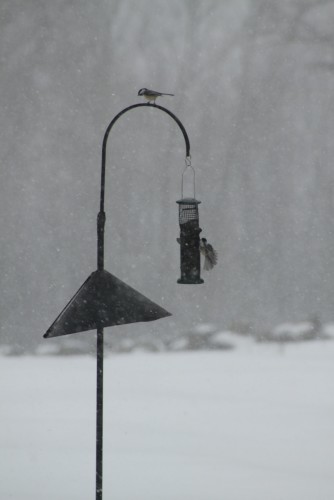 Back inside my cozy kitchen, second cup of coffee in hand, I pick up my book.
More and more these days, I want to close my computer, silence my phone, and steep in the silence. [continue…]