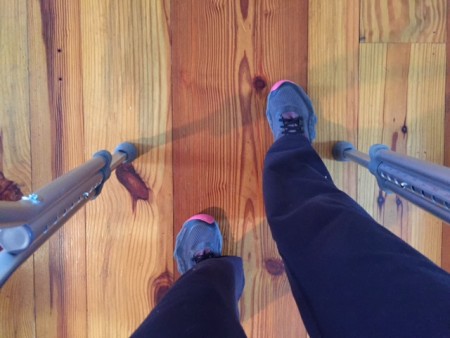 It's been two and a half weeks since my second hip replacement, a bit more than two months since the first. And I'm finally approaching the moment when I can look back and say, "It was worth it." As of a few days ago, I'm getting around the house on one crutch, which leaves a hand free for pouring tea or emptying the dishwasher. I can pull on my own compression socks and cut my toenails and drive downtown. Best of all, I can press up from all fours into a downward-facing dog.
What I didn't expect yesterday, as I spread my palms wide on my yoga mat and lifted my tailbone to the sky, were the tears. Moving from crutches into my first post-op yoga pose was a bit like coming home after a long journey to another land. Things are the same, but different. After twenty years of yoga practice, I arrive on my mat a beginner again, feeling my way forward tenderly. These two prosthetic hips? They are my new teachers. And I am a willing, humbled student.
There have been so many times over the last two years, when I found myself thinking, "I want my old life back." This morning, sitting once again at my writing spot in the kitchen, healing and breathing, I find myself writing different words: "This is my life." And every moment? Another opportunity to practice. Here, four lessons I've learned so far.
Some day your body will surprise you.
No matter what you see on the x-ray, no matter what the lab results show, no matter what the doctor has just diagnosed, no matter what operation you've just found out is in your future, one thing is for certain: the disturbing thing going on deep inside your body wasn't part of your plan. Perhaps we all presume, in our secret hearts, invincibility. I certainly did. But my body has begun to teach me that there's no special protection from pain, from aging, from death.
The moment my orthopedist flipped the switch on the light box and brought up the ghostly X-ray images of my two arthritic hips was the first time it hit me: I'm not indestructible after all. In fact, I'm not even in charge here. I'd done everything "right" — exercised regularly, eaten well, practiced yoga for years, bought well-cushioned new sneakers every spring. I was pretty sure all that good living was buying me both time and health.
And yet, the pain I'd been believed for months to be a groin pull was suddenly revealed to be something else entirely. And with that my illusions were shattered. [continue…]