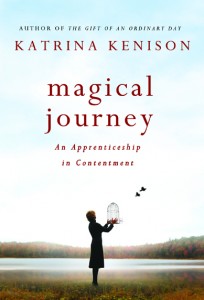 2013
Talks,
interviews,
and readings
Would love to meet you
at one of these events!

Wednesday, Jan. 9
12 noon
White Birch Books
Main Street
North Conway, NH
603-356-3200
http://whitebirchbooks.com
Thursday, Jan. 10
7 pm
Water Street Bookstore
125 Water Street
Exeter, NH
603-778-9731
www.waterstreetbooks.com/
Saturday, Jan. 12
11 am
The Toadstool Bookstore
12 Depot Square
Peterborough, NH
603-924-3543
http://www.toadbooks.com
Saturday, Jan. 12
5:30 pm — Magical Journey Publication Party
Come join us for champagne and good food, reading, and conversation!
The Peterborough Historical Society
19 Grove Street
Peterborough, NH
Thursday, Jan. 17
7 pm Yoga for an Open Heart; reading & signing at 8
LilOmm Yoga Studio
4708 Wisconsin Ave. NW
Washington, DC
202-248-6304
www.lilomm.com/
www.lilomm.com/
Saturday, Jan. 19
2 pm
Signing and reading with Margaret Roach, author of "The Backyard Parables: Lessons on Gardening and Life."
RJ Julia Booksellers
768 Boston Post Road
Madison, CT
203-245-3959
www.rjjulia.com/
Wednesday, Jan. 23
7 pm
Gibson's Bookstore
27 South Main Street
Concord, NH 03301
603-224-0562
www.gibsonsbookstore.com/
Thursday, Jan. 24
6:30 pm
The Music Hall Loft
28 Chestnut Street
Portsmouth, NH 03801
603-436-2400
http://www.themusichall.org

Saturday, Jan. 26
3 pm
Signing and reading with Margaret Roach, author of "The Backyard Parables: Lessons on Gardening and Life."
Northshire Books
4869 Maine Street
Manchester Center, VT 05255
802-362-2200
www.northshire.com/
Sunday, Jan. 27
3 pm
Signing and reading with Margaret Roach, author of "The Backyard Parables: Lessons on Gardening and Life."
Buttonwood Books
747 Chief Justice Highway
Cohasset, MA 02025
www.buttonwoodbooks.com/
781-383-2665
Wednesday, Jan. 30
7 pm
Signing and reading with Margaret Roach, author of "The Backyard Parables: Lessons on Gardening and Life."
New England Mobile Book Fair
82-84 Needham Street
Newton Highlands, MA 02461
603-527-5817
www.nebookfair.com/
Tuesday, Feb. 5
10 am till noon
Talk: "The Parenting Journey"
La Canada Presbyterian Church
LCPC Parent Education
626 Foothill Boulevard,
La Canada, CA
818-790-6708
http://www.lacanadapc.org/event-items/katrina-kenison-author-tea/

Wednesday, Feb. 6
6 pm
Laguna Beach Books
Old Pottery Place
1200 South Coast Highway
Laguna Beach, CA
949-494-4779
http://www.lagunabeachbooks.com/
Friday, Feb. 8
7 pm
Vroman's Bookstore
695 East Colorado Boulevard
Pasadena, CA
626-449-5320
www.vromansbookstore.com/
Thursday, Feb. 21
7 pm
Amherst Public Library
14 Main Street
Amherst, NH
http://www.amherst.lib.nh.us
Friday, Feb. 22
7 pm
Book Ends
559 Main Street
Winchester, MA 01890
781-935-3339
www.bookendswinchester.com/
Thursday, Feb. 28
7 pm
The Arts Center of the Capitol Region
265 River Street
Troy, NY 12180
518-273-0552
Reading, signing, and conversation with Margaret Roach, author of "The Backyard Parables: Lessons on Gardening, and Life," hosted by memoir-teacher and author Marion Roach Smith.
Sunday, March 3
Two events, same location
Battenkill Books
15 East Main Street
Cambridge, NY 12816
(518) 677-2515
2 pm: "The 365-Day Garden" slide lecture with Margaret Roach.
3 pm: Reading and conversation with Katrina and Margaret, from our two new books, "The Backyard Parables: Lessons on Gardening, and Life" and "Magical Journey" An Apprenticeship in Contentment."
www.battenkillbooks.com/
Thursday, March 7
7 p.m.
POSTPONED DUE TO WEATHER!
Monte Cristo Books
13 Washington St.
New London, CT
(860) 574-9056
Events
Saturday, March 9
11 am
The Toadstool Bookstore
Lorden Plaza
Nashua Street
Milford, NH
http://toadstool.indiebound.com/event

Friday, April 19
12 noon
Book & Author Luncheon with Margaret Roach
Hickory Stick Bookshop
Washington Depot, CT
(860) 868-0525 (call the store to reserve your place)
http://www.hickorystickbookshop.com

Sunday, April 21
3:30 pm
Reading and signing
Free and open to the public
Larchmont Library
121 Larchmont Ave.
Larchmont, NY
(914) 834-2281
Sunday, April 28
3 pm
Reading and signing with Margaret Roach, author of "The Backyard Parables: Lessons on Gardening and Life."
The Concord Bookshop
65 Main Street
Concord, MA 01742
978-369-2405
www.concordbookshop.com/
Wednesday, May 1
Town-wide Book Group Event
7 pm
free, by invitation
Winchester Country Club
Cambridge St.
Winchester, MA
Thursday, May 2
6:30 pm
Parnassus Books
3900 HIllsboro Pike, Suite 14
Nashville, TN
615-953-2243
http://www.parnassusbooks.net/
Saturday, May 4
7-9 pm
Motherhood and Words Reading
The Loft Literary Center
1011 Washington Avenue South
Minneapolis, MN 55415
Phone:(612) 215-2575
https://www.loft.org/
Monday, May 6
7 pm
Common Good Books, Garrison Keillor, prop.
38 South Snelling Avenue
St. Paul, MN
651-225-8989
Commongoodbooks.com
MAGICAL JOURNEY
News and Reviews on the Web
A thrill to be featured in People magazine? Absolutely!
Read my essay about change on Maria Shriver's Architects of Change site HERE.
Ali Edwards needs no introduction, her fans are legion. Loved what she had to say about Magical Journey on her blog.
Power of Moms is a terrific site, "a gathering place for deliberate mothers." Tune in to my podcast with founder April Perry HERE.
I went all the way to Nashville and brought my whole book group along with me, only to have an ice-storm shut down the city moments before I was to begin a reading at Ann Patchett's bookstore. Oh well; we've rescheduled for May 2. And the entertaining blog entry she wrote about Magical Journey and the storm-that-wasn't made up for any disappointment. Read Ann's story HERE.
Rebuild Your Life Now is an inspiring website for anyone in a time of transition. Loved doing this interview.
Did my first GoodReads chat with my friend Margaret, and was delighted by the range of topics we discussed with readers and friends. It's all archived HERE.
Magical Journey is a January Editor's Choice Pick at the Chicago Tribune.
Awesomely Awake is a site devoted to "inspiring you to be the parent you want to be." My interview with Shawn Leddington Fink is all about keeping it simple. It's HERE.
VIV Magazine is very cool. They ran a Magical Journey excerpt, and a terrific interview, too. Read it HERE.
Priscilla Gilman's questions push me to go deep and reach far. Her terrific interview is HERE.
The Kitchen Witch always makes me laugh, and she usually inspires me to cook something new, too. What author wouldn't be thrilled with a review that begins: "You Need This Book. You Do." Read Dana's whole piece HERE.
I never miss a day of Lindsey Mead Russell's blog, A Design So Vast. Of course, I was honored  she chose to write about Magical Journey HERE.
Elizabeth Grant Thomas's exquisite review reminds me that even though we may be at different places on the journey, we all share a common path. Read it HERE.

The best reviews are the ones that tell a story of their own. I love what Pamela Hunt Cloyd wrote HERE about her own mothering journey and how our paths crossed.
Jena Strong says her piece is NOT a review. No matter. I can't imagine a lovelier response to MAGICAL JOURNEY. Read it HERE.
Bruce Dolin is a kindred spirit, a seeking dad, and a wonderful on-line friend. He paused mid-way through reading to share his thoughts HERE.
Life coach Stacy Curnow helps women identify their sense of purpose. Practical, warm, and wise she is. And a lovely writer, too. Her review at Midwife for your Life is HERE.
Was delighted when the Huffington Post took an excerpt from Magical Journey. Click HERE to read it.
More on the web. . .
***My "Oprah Moment" on the Huffington Post: Click HERE.
***Honored to have The Gift of an Ordinaray Day featured on Maria Shriver's inspiring website, Architects of Change. Click HERE to read my story.
*** On "Redefining Success and Celebrating the Ordinary," New York Times, June 29, 2012
***"Chapters of a Life: Author Katrina Kenison's memoirs have attracted a growing legion of fans with their simple message: Enjoy the little moments of life before they're gone." Smith Alumnae Quarterly, Summer 2010.
(Turn to page 38.)
** And here is a lovely interview in Psychology Today, with a fellow mom and memoirist.