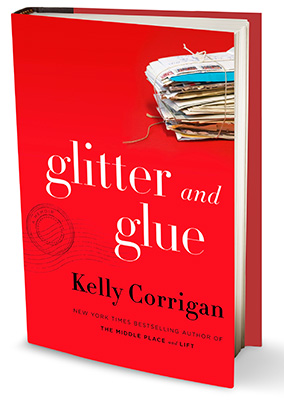 I was sitting at my kitchen table answering email last Monday when a note from Kelly Corrigan popped into my inbox.  I don't know Kelly personally, but somewhere along the way I must have signed up to be on her mailing list.
The note was casual, hastily typed, without so much as a capital letter – the kind of quickie email I'd expect to get from a close friend:
22 years ago i started writing a book about a family i lived with in australia and how that radically upended many opinions i held of my mother. 
Below, there was a link to a reading Kelly had done the week before, in a friend's living room in California — an essay that serves (quite brilliantly) as a trailer to her new book, Glitter and Glue.
And so it happened that I was one of the first 100 or so people last Monday to click over to YouTube and watch Kelly talk about how her goal coming out of college was to become Interesting, with a capital "I."
Convinced that "things happen when you leave the house," Kelly sets off with her college roommate to travel around the world.  But it's not long before she runs out of money, her dream of being a hippie explorer derailed by lack of funds by the time she hits Australia.  Instead of trekking in Tasmania, she winds up caring for two newly motherless children in a suburb north of Sydney.
It's a coming-of-age story with pictures, condensed into five minutes, and it makes for great video. I was still wiping away tears as I shared the link on Facebook.  And then, without really thinking about it, I sent Kelly an email in return.  "Love the video," I wrote. "And we share some territory."
A reply flew back within a minute: "Of course I know you!"  Two days later, two books arrived from her publisher.  One for me to read and keep, and another for me to give away to one of you.
And here's the amazing thing.  As I sat down on my sofa and began to read Glitter and Glue, it actually did feel as if I were settling in for a good long talk with my best friend.
Such is the magic of Kelly Corrigan.  The spell she casts – an irresistible  mix of vulnerability, heart, humor, bad-girl charm, racy language, and hard-won wisdom – draws you in close and holds you tight.  Her words weave an invisible inner circle, and there's no place you'd rather be than right at the center of it with her, sharing a second cup of coffee, leaning in close so you won't miss a word, getting down to the heart of the stuff that really matters.
So, I should warn you now: You will not read the first pages of Glitter and Glue and then set it down to go off and tend to other things.  [continue…]