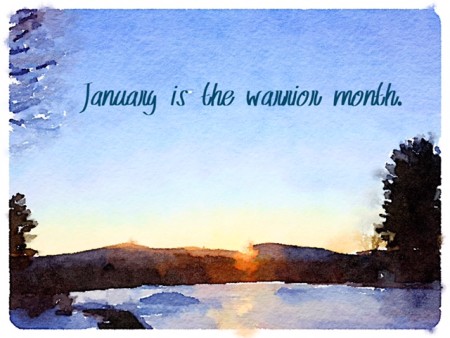 January is the warrior month," writes Vivian Swift in her gorgeous hand-lettered book When Wanderers Cease to Roam: A Traveler's Journal of Staying Put. She continues, "It takes a warrior to soldier through these cold, dark, harsh January days."
Indeed it does, especially for me this year. Maybe for you, too?
Well, even a peaceful warrior needs to be well armed. Here, a quick round up of my own best defenses.
Knowing I'd be mostly homebound and recuperating from surgery in January, hobbling around on crutches rather than trekking through the woods on my snowshoes, I decided to gird myself for the warrior month by creating a bit of structure for my days. The healing journey requires patience, but it's also turned out to be an opportunity to enjoy some special treats for both body and soul.
Of course, you may simply be recuperating from the demands of life itself. Reason enough, certainly, to treat yourself! So do come along, and enjoy these simple pleasures with me. [continue…]