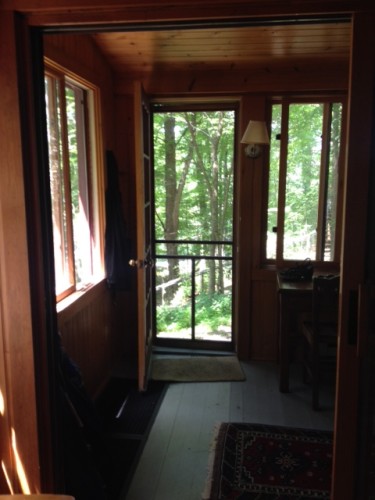 "Solitude is the soul's holiday, an opportunity to stop doing for others and to surprise and delight ourselves instead."
There comes a moment.
You love your life and the precious people in it. And yet, suddenly the very intimacy you cherish feels like a burden you can no longer carry. You want to see yourself as a person who is competent and sturdy and kind. And yet, today you are able to be none of these things.
You can't plan one more meal or push the cart through the frigid produce aisles one more time or carry one more bag of groceries in from the car. You can't cook another balanced dinner or sit at the table and have one more meaningful conversation. You can't anticipate or meet one more need, or set one more thing to rights.
You want to sleep alone in a narrow, clean bed and wake up in silence and let things go their own way.  You want to take a vacation from worrying and fretting and fixing. You want to have breakfast at ten and skip lunch and eat salad from the serving bowl for dinner — with your book propped in front of you. You want to take a walk at your own pace, slowly. You long for a conversation in which the only one you have to listen to is the small quiet voice inside, the voice that speaks without words.
You imagine what a relief it would be to spend a whole day without talking. Without cleaning or washing or weeding or folding anything. Without make-up, without good cheer, without a to-do list, without getting in the car, without reaching for your wallet or your phone or the dog leash or the sponge.
You wonder if anyone else hits this wall. The wall of too much. The hard unforgiving place of feeling crowded and tired and overwhelmed. Of knowing you simply cannot accomplish all that needs to be done. Or make good on all the promises you've made to others. Or live up to the expectations you've set for yourself.
You find yourself imagining solitude, craving it. The dark quiet cave of aloneness beckons.
And you think about where you might go, just for a little while, to privately fall apart and put yourself back together again, without causing anyone you love too much fuss or inconvenience.
You email a friend who has a cabin on a country road, the place you went once before to grieve the loss of a friend and to write the first, halting chapter of a book you weren't sure you'd be able to finish. [continue…]