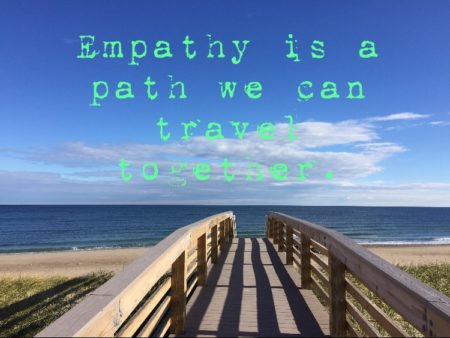 "The world is violent and mercurial — it will have its way with you. We are saved only by love — love for each other and the love that we pour into the art we feel compelled to share: being a parent; being a writer; being a painter; being a friend. We live in a perpetually burning building, and what we must save from it, all the time, is love."   ~ Tennesee Williams
I wonder what would happen if we were all to commit ourselves, over these next months, to small gestures of love, healing, and reconciliation? Would the national mood of distrust and divisiveness change for the better?
What would happen if we took our cues from the graceful, forceful words spoken yesterday by Hillary Clinton and President Obama, and by the President-elect as well, all of whom encouraged  Americans to come together now, and to do whatever we can, wherever we are, to repair our torn social fabric?
What would happen if those of us who grieved the results of this election chose today, and in the days ahead, to transform that grief into renewed determination — determination to create a kinder, safer, more tolerant country, one in which to be a citizen means to uphold our deepest national values of freedom and dignity and respect for all Americans?
What if we were to stake out this small territory as our first patch of common ground: a respect for our imperfect yet precious democracy, manifested by an insistence, from both sides, that the President-elect    start making good, right now, on his election-eve promise to reunite the country?  [continue…]