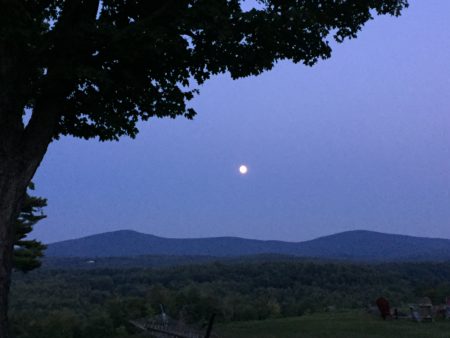 The crickets sang in the grasses. They sang the song of summer's ending, a sad, monotonous song. "Summer is over and gone," they sang. "Over and gone, over and gone. Summer is dying, dying." The crickets felt it was their duty to warn everybody that summertime cannot last forever. Even on the most beautiful days in the whole year — the days when summer is changing into fall — the crickets spread the rumor of sadness and change.    ~ E. B. White, Charlotte's Web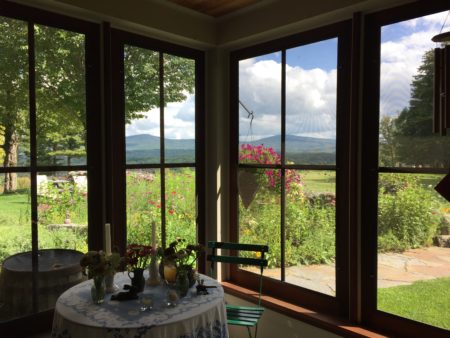 I've been listening to the crickets' warnings all afternoon, trying to accept the truth: summertime cannot last forever.  Much as I would love a hundred more days just like this one, there's no denying that change is in the air. From my "summer office"  — an old blue chair on the screened porch — I have a view of mountains, garden, and sky.  It's as serene a vista as any human being could hope to call home.  There is not another person in sight and I've allowed my computer screen to darken into sleep mode on the table in front of me. And yet distractions are plentiful.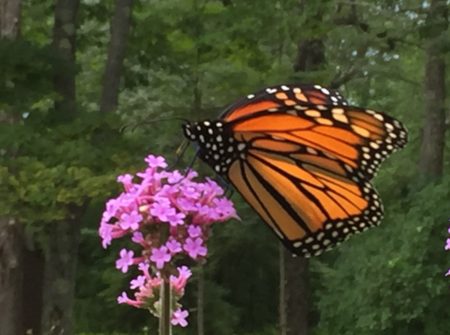 Bright, busy monarchs float from one purple verbena spire to another, and every few minutes I step outside to count them.  Six at once today, more than I've ever seen here at one time.  A pair of bluebirds splash in the birdbath while woodpeckers and jays come and go from the feeder. A breeze rustles through the leaves, clouds slide by, bees hum, the sun slips behind the trees.  As the day turns and the shadows lengthen, the cricket song intensifies, as if more and more insect musicians are finding their way into the field, tuning up their instruments, and joining the symphony.  It's hard to get much writing done.
Every year, my family teases me for mourning the end of summer even before the 4th of July fireworks are over.  I always want more – more dawn hikes up the mountain, more strawberries and blueberries and peaches to pick, more arugula and basil to cut from the garden, more swims in the pond, more dinners on the porch, more bouquets of cosmos and zinnias, more fires on the hilltop, more s'mores eaten in the dark, more nights of deep sleep with all the windows open. [continue…]