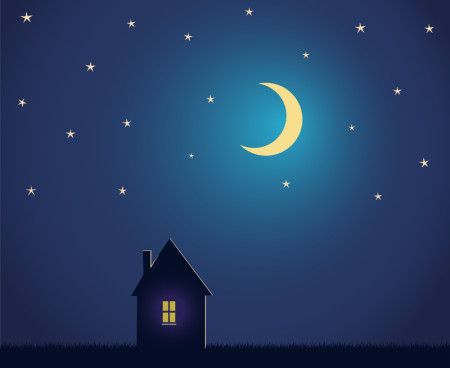 One December when our sons were little, I hung a piece of paper painted a deep dark blue in our kitchen.  "A sky," I told them.  I painted another piece of paper gold, cut out about a hundred small stars and put them in a basket, along with a glue stick.
My hope was to distract the boys a bit from the idea of "getting" things for Christmas, and to shift the emphasis instead to the kinds of simple acts of kindness that actually make us feel good inside ourselves.
I knew I wouldn't have much luck telling them that the shortest route to happiness isn't paved with possessions.  (Try explaining that to a six- year-old who has been trying to prioritize his Christmas list.) They wouldn't believe me if I suggested that more stuff doesn't ever equal a better life.  Or that a sure-fire antidote to restlessness and craving is to do something nice for someone else.
I wanted them to discover for themselves the joy of giving, the deeper meaning of the season.
And so, for every random, unsolicited act of kindness anyone in the family did during the day, we placed a star into the sky.  Each night at dinnertime, we turned off all the kitchen lights, lit candles in an Advent wreath on our table, held hands and said our grace.  And then, as the painted sky filled with stars, we talked about opportunities we'd each found during the day to do good deeds.
The December of Good Deeds was such a long time ago.  For some unknown reason, we only did it once.  And yet it is one of my favorite holiday memories, ever.
Last night, Henry and Steve and I grabbed the afghans and lined up on the couch together to watch a couple of Tivoed episodes of "The Daily Show."  The clips of shoppers mauling each other in a race to claim discounted printers, dollar DVDs, and Rachel Ray cookware on Black Friday were more horrifying than funny.  Jon Stewart didn't need to say much about the stabbing in Virginia over a parking space, the shooting at Kohl's, or the mayhem at Wal-Mart.  There was no need to comment on Sarah Palin's claim last week that she loves the commercialization of Christmas, because it reminds us all that this is the "most cheerful holiday on the calendar."  All he had to do was play the footage.
This morning, I woke up early, still haunted and disturbed by those scenes.  We are warm and dry and safe and well-fed here.  There is nothing anyone in my family needs or wants so badly that we would line up outside a store at 6 a.m. to get it. No one went shopping the day after Thanksgiving.
But I also realize what a luxury our comfort is.  I don't want to take any of what I have for granted – not the food in our refrigerator, not the heat rising from the grates on the floor, not the laptop on which I type these words, nor the fact that, at 6:30 in the morning, I am privileged enough to be sitting on the couch in my pajamas writing a blog post, rather than driving through darkness to get to work on time.  I can't even begin to know what it's like to live in a constant state of not-enough.
And yet, I'm certainly not immune to the pressures of the season.  [continue...]