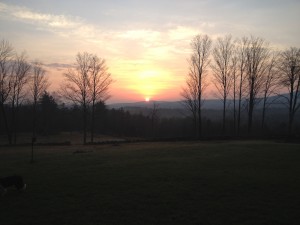 Remember that poster in your high school guidance counselor's office? The one with an airbrushed photo of some generic sunrise and a caption that read, "Today is the first day of the rest of your life"? At seventeen, I really did not want to hear that.
This morning at dawn I stepped outside. The sunrise was spectacular. The first words that popped into my head were, "Today is the first day of the rest of your life." The birds were singing like crazy. My husband was already down in the field, throwing a tennis ball for Gracie. And my heart was full to overflowing with gratitude. The first day of the rest of my life seemed like a very good reason to stand in one place for a while, watch the sun climb up into the sky, listen to the wild symphony going on outside, and give thanks for everything.
Yesterday at 2:08 in the afternoon, I hit the SEND button and emailed the last chapter of the manuscript I've been working on for the last year to my editor. It took a little while for the fact of that to sink in: I did it.
I walked downstairs in a daze, went outside and sat down in a lawn chair next to Steve. And then I burst into tears. The transition from writing to being done with writing pretty much undid me. There was the relief of making my deadline, of course, but it was inextricably intertwined with the despair of knowing that the finished product is so much less than the beautiful creation I envisioned in my imagination all those months ago, before I actually got down to the discouraging business of trying to translate experience into words.
While I've been sequestered upstairs in Henry's bedroom, surrounded by his old Red Sox posters and various drafts and file cards, the seasons changed. I missed most of winter, and barely noticed the arrival of spring. Yesterday, with the finish line in sight, I sat on Henry's bed with my laptop in front of me for seven hours without even looking up. When I finally ventured out into my own front yard yesterday afternoon, it felt as if I was returning home from an extended trip overseas, or was just recovering from a debilitating illness. I'd been gone a long time. Now, suddenly, with one tap of the keys, I was back. Re-entry was just a little rocky. All I could think was, "I'm done and I failed."
My husband wiped my tears away and gave me a sweet letter he'd written in the morning, when he could see the end was near. And then he gave me Wendell Berry's "Collected Poems," the most perfect gift for that tumultuous moment. I opened the book and the first poem I came to was this one, called "Like Snow."
Like Snow

Suppose we did our work
Like the snow, quietly, quietly,
Leaving nothing out.

Such solid, simple words. Such a fine thing to aspire to. I wonder why it is that we humans suffer so with our fears and doubts about not being enough. We do the best we can, give all we have to give, and then we turn a harsh eye on the beauty of our efforts.
Today, on this first day of the rest of my life, I have practiced doing my work like the snow. Quietly, quietly.