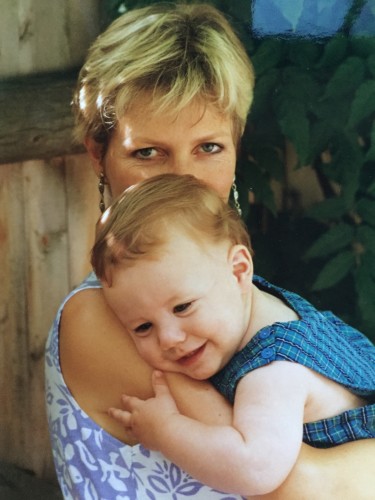 Twenty-five years ago, as a new mother trying to figure out what kind of mom I wanted to be, I went in search of books to guide me. I hoped to find some wise mothering mentors who could shine a light on the path at my feet and say, "Here, follow me, come this way."
Looking back on those days now, I realize how much things have changed. Back then, there were no cell phones, the word "text" referred to print on a paper page, and news of the world arrived via the newspaper that landed on our doorstep each morning.
We bought our first computer in 1990, when Henry was three months old, so I could begin working from home at my new job editing The Best American Short Stories. My Apple IICX could run two programs at once, Clarisworks and Filemaker Pro, which meant I could do word-processing (an outdated phrase if every there was!) and keep a database of my two hundred-plus magazine subscriptions. I dialed in for an internet connection, kept all my reading notes on file cards, and corresponded with authors and friends through the mail.
There were no blogs to read or online parenting forums to join, there was no Amazon to browse nor any algorithm recommending books for me to buy, there was no Facebook. My husband took photos of our new baby boy with his 3-pound Nikon, we dropped the rolls of film off at CVS, and then carefully placed our 4 x 6 prints into a photo album, sending dupes off to the grandparents.
It all seems pretty quaint in retrospect, so innocent and simple. But at the time, working and raising children and trying to do it all and have it all and give it all to them, I still sensed that life was moving too fast. Much as I yearned for less pressure and more fun, my days were spent juggling: too much stuff, too many choices, too many obligations, never enough time. [continue…]