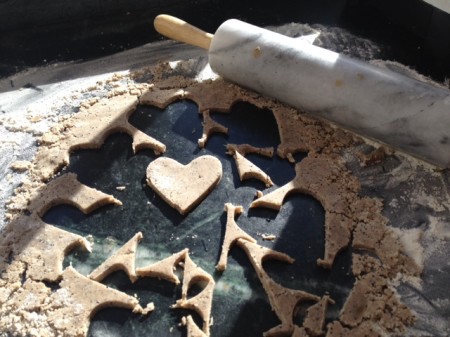 "And, in the end, the love you take is equal to the love you make."   ~ Paul McCartney
Hearts:
When my sons were young, we always made Valentines.  It was a joy for me to join my boys at our old Formica table in the playroom and, for a few February afternoons each year, devote ourselves to frilly matters of the heart.
Of course, we went all out. Our supplies were bountiful: stacks of construction paper, doilies, paper hearts, pink ribbons, lace, glue sticks and lots of sparkly stuff.  And the lavish creations borne of our efforts pleased us greatly.  Valentine's Day was easy to celebrate: cozy, hands-on, messy fun.  Love made visible.
I still have our old box of Valentine paraphernalia in the basement, though it's been over a decade since the three of us made cards together and the glue sticks have no doubt turned rock-hard.  I considered the box briefly the other day: should I carry it all upstairs?  Sit down by myself and cut up a few red doilies for old times' sake?  No, I realized, that would just feel weird. [continue…]