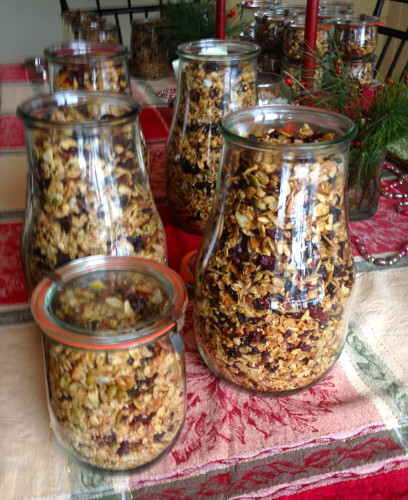 My grandmother Kenison crocheted afghans and made the world's best doughnuts, two skills I still wish I'd learned from her before it was too late.
She was also the first person I ever knew who made her own granola, back in the days when "health food" was considered a fad, "organic" might as well have been a foreign word, and the cereal boxes in our kitchen cupboard at home ran from Raisin Bran to Cap'n Crunch.
At least, on a visit years ago when I was newly married, I did have the foresight to write down Grammie's recipe.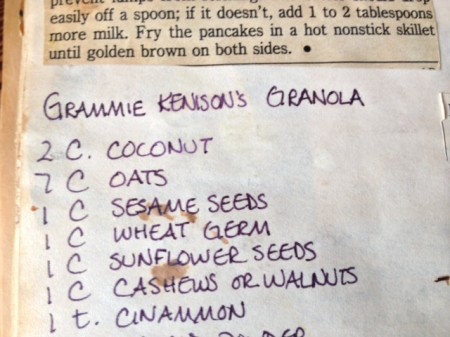 And although I can't present every member of our family with a hand-made afghan this Christmas as she once did, I am following in her footsteps. With the exception of books (I always give books!), most of the gifts I'm getting ready to wrap this year aren't coming from stores.  They're coming from me.
My granola isn't exactly like my grandmother's. I've taken some license with her original recipe over the years.  It's fun to play with new combinations of ingredients, and it never turns out quite the same twice anyway.  (She liked carob powder in hers; lately, I've been experimenting with cardamom in mine.) The one thing I always do, though, is make a lot.  And it's always delicious.  I think of my grandmother every time I start gathering the ingredients, and I feel happier creating something simple from scratch than clicking a "buy now" button on my computer or wandering through stores looking for the "perfect" gift.
As I type these words, the smells of maple and cinnamon and cardamom are still lingering.  [continue…]