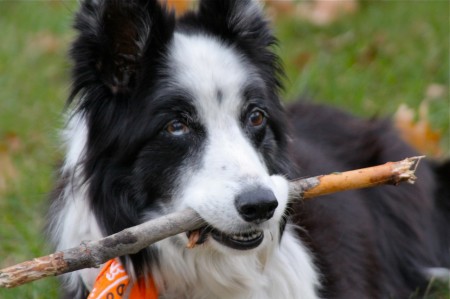 Everyone we know who's ever loved and lost a dog told us the same thing: that she would let us know when it was time to say good-bye. And of course, she did.
Yesterday morning we let Gracie go, with sad hearts but also certain that it was her day to leave us.
Since she was diagnosed with cancer just a month ago, on Oct. 17, Gracie rose to the challenge of treatment just the way she did everything else in her life: willingly, without fuss or fanfare, and with complete trust in her humans to do what was best for her. We took a big swing at it, with three rounds of chemo, and were amazed and thrilled as she gained back weight and strength and her zest for life.
A week ago, she was like her old self — up at dawn, taking long morning walks, playing in the leaves, chasing balls and sticks. (Steve took this photo  last weekend, as Gracie eagerly did her part during fall clean-up at my parents' house.)
There were no bad days. These past few weeks have been about massages and Reiki and hand-feeding, lots of special, home-cooked food, visits with all her friends, treats and walks and togetherness. We had the great gift of getting her back for a little while, knowing as well that things could turn at any moment. When they did, we took our cues from her. [continue...]