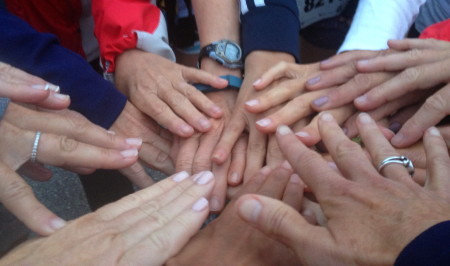 Never doubt that a small group . . . can change the world; indeed, it's the only thing that ever has."
– Margaret Mead
One week ago today, we walked.
Twenty-seven women, ages sixteen to sixty-something, united by a desire to make a difference – and inspired by the faith that, together, we can.
We walked from Hopkinton to Boston, grateful for one another, for clear skies, good company, and comfortable sneakers.
We walked sharing stories, Ibuprofen, sunscreen, Chapsticks and BlisterGlide.
We walked fueled by Gatorade and bananas, popcorn and power bars, laughter and love.
We walked in memory of a dear friend, gone three years but never forgotten.
We walked for our loved ones and for yours.
We walked with blisters, numb feet, bum knees, loose toenails, sore backs, toothaches, weird rashes, annoying socks, tight hamstrings.
We walked anyway. [continue...]