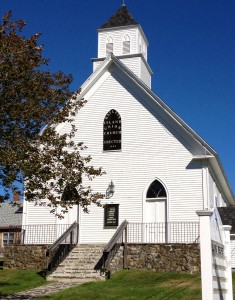 Twenty-five years ago last week, my husband and I were married in this small church in Maine before fifty friends and family members. When I was in my twenties and living in New York, and Steve was in Boston, my parents' house on Bailey Island was our favorite get-away, a patch of windswept neutral territory where we could walk and talk for hours, learning how to be together, how to share a bed and a kitchen, how to live together as a couple before returning to our separate lives in separate cities. It seemed only fitting that we marry in this place that meant so much to both of us, a place where we had already begun to create a history of shared memories.
All through the summer of 1987, we worked to get ready; our wedding would be, by design, a do-it-yourself affair, simple and modest and of our own making. We asked the elderly couple who ran the seasonal Driftwood Inn if they'd be willing to stay open the weekend after Labor Day for us. "No kitchen, though!" Mrs. Conrad said, wagging a finger at me. Whereupon I assured her we'd be happy to feed everyone ourselves.
I remember all the weekends Steve and my brother and my dad spent painting the house that summer. My mom and I gathered vases for flowers, scoped out sources for hydrangeas around the island, asked a woman down the road if she'd take the pictures and the firemen's wives if they'd be willing to put on a fish chowder rehearsal dinner at the library the night before.
I bought my dress off the rack at Filenes, while on my lunch break from work one day, and then came back to the editorial offices at Houghton Mifflin and proudly announced to my fiancé that it was in the bag – a plain ivory lace tea dress that I adored all the more for the fact that it fit me perfectly, cost only $200, and had taken less than forty-five minutes to choose. We picked up a couple of cases of champagne at Marty's Liquors in Newton and drove them to Maine in the trunk of our car. The morning before the wedding, Steve and a few other guys put up our rented yellow and white striped tent and laid down a dance floor. My mom made fruit salad and cheese strata. While my husband-to-be hit tennis balls with his friends, I took a long run, from one end of the island to the other, taking care so as not to cross paths with my man before we met at the altar. And then I sat down on a rock on the beach and stared up at the sky, wondering what the life we were about to embark upon held in store for us.
My memories of that day a quarter century ago are all good. I loved our wedding – loved the way my family worked with us to realize our vision, loved having all the people we cared about, from all the disparate parts of our lives, gathered together in one place just to bear witness to our vows, loved the fact that our married life began at the intersection of sea and sky, loved the long walk my new husband and I made from the church to the reception, strolling along alone, hand in hand, while all our guests drove by, honking and waving.
Last Wednesday, on our anniversary, Steve pulled the photo album off the shelf. He had taken the day off from work to celebrate with me, but our plans were thwarted. Laid flat by a stomach flu, I was too sick even to look at the pictures, let alone go out to dinner or rouse myself for a meaningful conversation with my husband of twenty-five years. While Steve waxed nostalgic, I lay curled up on the couch under a blanket, nauseated, dehydrated, exhausted, and bearing little resemblance to his radiant bride of yore.
Every once in a while, I'd make my way to the bathroom for a few sips of water and cringe at my own pasty reflection in the mirror. Meanwhile, my husband gave up all hope of enjoying a fun day off with me and tackled a few household projects. Lying on the couch, watching him push the lawn mower around the back yard, I tried to conjure in my mind the guy I married — the lean, handsome publishing executive with dark curly hair and an athlete's build. Time was, my heart would go wild just looking at him.
What happens now is different, of course. The bright fireworks of first love settle, over time, into a long, slow burn, both darker and richer. The years have humbled us. We no longer believe, as we did on our wedding day, that we can do a better job of being married than everyone else. We've had our share of pain and fury, misery and misunderstanding, forgiveness and absolution.
I once read that in marriages that last, each partner can still see in the other the same person they fell in love with all those years ago. Even the physical diminishments of age or illness can't obliterate the ever-present memory of youthful beauty, or extinguish the recollected spark of first passion. And even as bodies grow old and frail, there remains a powerful spiritual connection, an unwavering belief in the power of this union, a profound sense that each partner is far greater together than either could be alone.
That makes sense to me now. When I look at my husband these days, I see a 63-year-old father of two grown sons, but I can also easily conjure the tender young groom who slipped a ring on my finger half a lifetime ago. Still, I had to laugh, thinking that if I could have had a glimpse, on my wedding day, of the two of us on our 25th anniversary, I would have been seriously underwhelmed: an aging bald guy in a sweaty T-shirt mowing the lawn; a pale, wrinkled woman with a severe case of bed-head, sprawled on the sofa.
And yet, the thing that surprised me on our anniversary was realizing just how content I felt with the way things were, even though the day itself was hardly what we'd hoped for. The celebratory dinner out can wait. And we already have the one thing that really matters: twenty-five shared years, testament enough that ours is a love that will go the distance, for as many more years as time and fate will grant us.
Steve and the boys went out for pizza on our anniversary, and I stayed behind and sipped a cup of mint tea. When they got home, Steve sat down next to me in the kitchen, put his arm around me, called me his "bride." And so it is that, in the best possible way, love truly is blind.