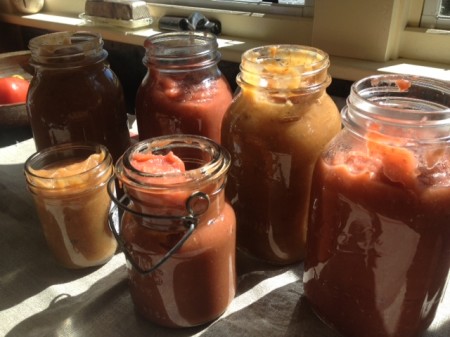 I spent most of yesterday morning in the kitchen with my son Jack, windows open to the September air.  In ten days he will move to Atlanta to begin his new life there as a student.  But for now, the two of us find ourselves home alone together.  (Henry left last week to return to his alma mater, St. Olaf, where he's helping out with the fall musical; Steve has been away for a few days on business. And so, it's just two of us here, a rare mother-son combination that hasn't happened for years and may not recur any time soon.)
All summer, I have mourned the end of summer.  Back in June, my family laughed at me for regretting the passing of time before the time I'd been anticipating had even arrived.  (Yes, I know, it's crazy.) The days were still getting longer, they pointed out, and already I was imagining how I would feel when they began to grow shorter.  The lake water was perfect for swimming, and I was wondering how many more swims we would have. A piercing awareness of the preciousness, the transience, of everything is, I suppose, both the blessing and the burden of my temperament. It is also the price my family has to pay for living with me.  I am always reminding them (myself!) to notice, to appreciate, to be aware of all that is and of all we have.
The truth is, I write so much about inhabiting the moment largely to help myself remember that it's where I want to be: simply present.  My tendency, always, is to live with a lump in my throat.  I experience the pain of endings even as I cherish the tenderness of beginnings.  I allow every joy to be shot through with a thread of sadness.  And I see in all that lives, all that has passed;  in all that is, all that one day will no longer be.
And so  I sit in my garden amidst the wildly blooming nasturtiums and feel the fleetingness of their splendor.  I adore our thirteen-year-old dog all the more for knowing her days are numbered.  (When she placed her head on the bed this morning at 6 am and pleaded for a walk, I swung right into action – because, of course, I can so easily imagine the future, when there will be no need to be out taking a hike at dawn.)  I fill our basement freezer with strawberries and blueberries and raspberries picked at the height of the season because I am always conscious of the season's inexorable turning.
Hanging out with my soon to be 21-year-old son yesterday, I reminded myself to simply enjoy the moment, without layering on the fact that in a few weeks he'll be in his own new kitchen a few thousand miles away and we'll be texting instead of talking. [continue...]