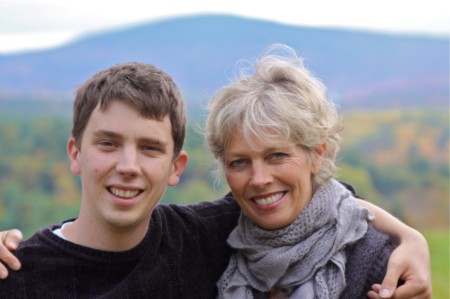 I've been fifty-five for a little over a week now. Rounding this corner, finding myself squarely in the long-shadowed afternoon of my own life, has given me pause.
I've spent a lot of time lately gazing out the window in my kitchen, watching the sunlit leaves float from tree to ground.  The days, the hours, even the moments, feel ripe and full — time to be cherished rather than rushed through.
And so, on this autumn afternoon I shut my laptop.  For the first time in years, I pick up a pad of paper and a pen instead.  I grab a sweater and head outside to write.  Perhaps what I'm yearning for is a different kind of knowing – words that come from the still, silent place in my soul, a glimpse of my own depths, some intimation of my rightful place in the world now that I've crested the arc of life and begun my descent down the other side.
55.  How strange it feels to write that pair of fives, to associate them with me. Have I really been alive that long, half a century plus five?  And what exactly am I, now that I'm no longer technically middle-aged but not exactly old yet, either?
I turn to a fresh page, brush a stray leaf from my hair.  [continue...]