Magical Journey
An Apprenticeship in Contentment
"MAGICAL JOURNEY  lives up to its ambitious title.  Katrina shows us a path into the future that is generous, brave, and open-hearted. I've given MAGICAL JOURNEY to so many people and the response has been unanimous – love."
                                                              — Ann Patchett
"No longer indispensable, no longer assured of our old carefully crafted identities, no longer beautiful in the way we were at twenty or thirty or forty, we are hungry and searching nonetheless."
With the candor and warmth that have endeared her to readers, Katrina reflects on the inevitable changes wrought by time: the death of a dear friend, children leaving home, recognition of her own physical vulnerability, and surprising shifts in her marriage. She finds solace in the notion that midlife is also a time of unprecedented opportunity for growth as old roles and responsibilities fall away, and unanticipated possibilities appear on the horizon.
More a spiritual journey than a physical one, this intimate memoir of loss, self-discovery, and growth will resonate deeply with any woman who has ever mourned the passage of time, questioned her own purpose, or wondered, "Do I have what it takes to create something new in my life?"
It was so beautifully written, I wore out a yellow marker highlighting my favorite lines."–People
An intensely moving tribute to the importance of enjoying every moment of life. . . . Her journey will inspire tears and determination, and remind readers that anything, 'done from the heart, changes the world in some small way for the better.' " —Publishers Weekly
"Warm and wise. . . . Soul searching reflections by a woman coming to terms with the three major challenges of midlife: change, loss, and death." —Kirkus Reviews
In this moving memoir, Katrina Kenison beckons readers into her world and proves to be an insightful guide and companion through the vicissitudes of life." —Chicago Tribune
This luminous memoir is a gift to any reader searching formeaning, clarity, and perhaps a bit of hard-won joy. Katrina Kenison is the best kind of guide through our life's passages: a thoughtful, fearless friend who reaches out a hand and says, I've been here too." – Dani Shapiro, author of Devotion
The afternoon of life can cast long shadows, but Katrina's beautiful observations on love, loss, growth and gratitude will brighten readers' worlds considerably. You won't find a better guide or friend to accompany you through the sorrows, joys, and mysteries we are all meant to share." –Priscilla Warner, author of Learning to Breathe
In sharing her quietly courageous search for purpose in the second half of life, Katrina Kenison inspires the rest of us to examine our own ordinary lives with wonder and compassion. Deeply personal and gently instructive, this poignant memoir of loss and growth affirms that, in the ways that truly matter, we are all intimately connected, our humble human stories more alike than different." –Stephen Cope, author of The Great Work of Your Life: A Guide for the Journey to Your True Calling
No matter where you are on the journey, Kenison's own pilgrimage points the way home. She give us permission to stop trying to improve ourselves and invites us to relax into the wonder of who we already are." –Regina Brett, author of Be the Miracle
After the kids are gone, Kenison faces the question that haunts every mother's empty house and every woman's passage beyond midlife. What now? Deeply wise and courageous, every page of Magical Journey shines with beauty and pulses with truth. Read it, and you'll want to do what Kenison does: begin again." –Karen Maezen Miller, author of Hand Wash Cold: Care Instructions for an Ordinary Life
---
                                              The Gift of an Ordinary Day
A Mother's Memoir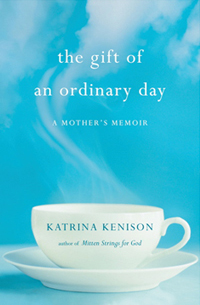 "Watching my sons growing and changing so visibly, almost from one day to the next, I sensed something in me breaking loose and changing as well, something no less powerful for being invisible. It was almost as if, having strived for years for predictable comforts, urban conveniences, and security of our well-established routines, I was suddenly haunted by all the things I hadn't done, the dreams that might never be realized, the sense that the tidy, civilized life we'd worked so hard to create didn't quite fit the person I really was, or, rather, still thought I might be."–from The Gift of an Ordinary Day
Katrina Kenison illuminates many mothers' most intimate fears and desires by so poignantly describing her own. Through the tumult of relocating from a Boston suburb to a small New England town, her sons' adolescent years, the challenges of new schools, college admissions, and career changes, and creating a new home for her family, she finds that she treasures the ordinary, unremarkable moments of everyday life the most — the very moments she once hardly noticed at all. Her moving story will help every woman make peace with life's inevitable changes.
"Eloquent… a reminder that life's seemingly mundane moments are often where we find beauty, grace, and transformation." – Family Circle
"Wise… a pleasure to read." – Kirkus Reviews
"Affecting… Kenison pursues with graceful serenity a time of enormous upheaval and transformation in her family's life." – Publishers Weekly
"An extraordinary book about the ordinary yet profound role of mothering. It had me weeping, chuckling, nodding, and 'wishing for everything back that ever was…' Katrina shares moments of motherhood I could totally relate to, but had almost forgotten."
– Joan Anderson, author of A Year by the Sea
"An honest, graceful book that every parent will appreciate . . . . Here is a fine writer, a dedicated mother, and a spiritual seeker speaking intimately to parents in search of wisdom." – Thomas Moore, author of Care of the Soul
"Much more than a memoir of motherhood; it is an inspired and inspiring meditation on midlife. What Katrina Kenison gives mothers – her gift – is the promise of reinventing ourselves as our kids grow up and we grow older, and the assurance of an invitingly abundant landscape on the far side of parenthood." – Lisa Garrigues, author of Writing Motherhood
                                                     Mitten Strings for God:
Reflections for Mothers in a Hurry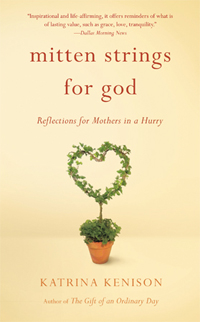 "When I stop speeding through life I find the joy in each day's doings, in a life that cannot be bought, but only discovered, created, cherished, and lived. . . .I wrote this book because I needed it myself — and because I suspect that I'm not alone, that other mothers, too, yearn to offer their children an alternative to our culture's noise, pressures, and materialism."
                                            ~ from Mitten Strings for God

In the tradition of Gift from the Sea and Women Who Do Too Much, this lyrical, heartfelt series of reflections has become a beloved mothering classic since it was first published in 2000. Featured on "Oprah," translated into 6 languages, and with well over 200,000 copies sold, Mitten Strings for God is a trusted guide for all mothers with young children. Inspired by Katrina Kenison's own search for a more satisfying balance in her life, this simple, intimate book reminds us what is possible when we slow down and become fully present in our lives. Suddenly there is room for joy and play and intimacy, space for wonder and reverie, time to awaken to the beauty of the world and rediscover the sacred in the ordinary. Coming home to ourselves, we are able to offer our children the one thing they need most of all: our own quiet presence.
"Inspirational and life-affirming, it offers reminders of what is of lasting value, such as grace, love, tranquility." – Dallas Morning News
"Mothers everywhere need to read this book." – San Antonio Express-News
"A mother's guidebook for the road less traveled… Like Anne Morrow Lindbergh's classic Gift from the Sea, Ms. Kenison's musings on family life, motherhood, and her own search for balance belong by the bedside, where they can be savored again and again. – Christian Science Monitor
                                                             Mothers:
                                                   Twenty Stories of Contemporary Motherhood
edited by Katrina Kenison and Kathleen Hirsch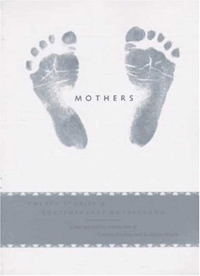 "I can hardly count the ways that being a mother has broadened my writing, deepened my connection to all other women, and galvanized my commitment to the Earth and its fate. As difficult as it is, sometimes, to find a way to be a writer while taking care of children, I think it would be harder to be a writer who has never known what it means to care for a child." – Barbara Kingsolver

Mothers, twenty stories by writers who are mothers, evokes every stage of the journey, from pregnancy and birth on through the childhood years, adolescence, and adulthood. Together, these richly diverse stories depict the complexities of mothering in America today as women actually experience it. Whether you are a new mother, a seasoned mom, or a grandmother many times over, you will find yourself in this book.
                                                  Meditations From The Mat:
                                                      Daily Reflections on the Path of Yoga
by Rolf Gates and Katrina Kenison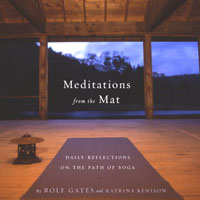 The 365 meditations included in this book offer a simple way to integrate the mindfulness we learn in yoga class into our own everyday lives. Teacher Rolf Gates and writer/student Katrina Kenison collaborate to bring the discipline of yoga into practical, accessible terms that can be put to daily use by students and practitioners at every level. Whether used in the morning to set a tone for the day, during yoga practice, or at the end of the day during evening reflection, Meditations from the Mat will support and deepen your yoga journey.
"A must for yoga teachers and students alike, Meditations from the Mat brings yoga theory into our daily lives." – Baron Baptiste, author of Journey Into Power
"Highly recommended… an excellent gift to oneself. I keep one copy on my desk at work and one near my yoga mat." – Deirdre Donahue, USA Today
"This book reflects the deepening and expansive effect of a dedicated yoga practice." – Sifhar Jonathan Foust, President, Kripalu Center for Yoga and Health
                            The Best American Short Stories of the Century
edited by John Updike, co-editor Katrina Kenison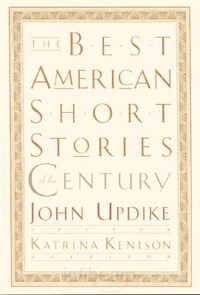 At age 67, the perennially youthful John Updike may at last qualify as something of an elder statesman. But the Best American Short Stories annual–whose greatest hits package Updike has now assembled–is almost a generation older, having commenced publication in 1915. This staying power allows the hefty Best American Short Stories of the Century to perform double duty. It is, on the one hand, a priceless compendium of American manners and morals–a decade-by-decade survey of how we lived then, and how we live now. Yet Updike very consciously avoided the sociological angle in making his selection. "I tried not to select stories because they illustrated a theme or portion of the national experience," he writes in his introduction, "but because they struck me as lively, beautiful, believable, and, in the human news they brought, important." In this he succeeded: the 55 fictions that made the grade are most notable for their human (rather than merely historical) interest. -James Marcus for amazon.com
The task had to be daunting, selecting the 55 stories that grace this volume. The title alone is daunting: the best? But the riches contained, including a foreword by Kenison and a deft introduction from Updike, prove the title accurate. Consider the resources mined: 2000 stories anthologized in annual best-of volumes since 1915. Although certain notable story writers, John O'Hara for one, never made it into the series and others who did have been crowded out of this volume, the stories excavated and displayed herein are gems. Life on this continent may be brutal, but this extraordinary collection offers up dazzling writing that salves the wounds, as well as stories full of the pleasures of life. – Publishers Weekly