"Seen in the right light, through the right eyes, everything is extraordinary."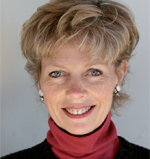 I am a wife, a mother, a life-long reader, wanderer, and daydreamer.
When my two sons were small, I constantly had to remind myself: if I raced through my life, I'd miss it. I wanted time to enjoy my children as children, time to play games on the floor, daydream, and read aloud at bedtime. Writing is still a way to stay in touch with my wiser self, a chance to pause each day and make sure I'm appreciating life as we are living it — right here, right now.
I've traced the seasons of family life through three books: Mitten Strings for God: Reflections for Mothers in a Hurry, The Gift of an Ordinary Day: A Mother's Memoir , and Magical Journey: An Apprenticeship in Contentment.
And in the process I've learned to celebrate the beauty of ordinary days and to savor the pleasure of small moments well lived. Like most of us, I still spend too much time worrying about things that are out of my hands, but I've also found solace and contentment in life's simple pleasures: stillness, friendship, good books, time with family, a walk in the woods.
Katrina Kenison
A graduate of Smith College, Katrina Kenison spent many years working in publishing, first as an in-house editor at Houghton Mifflin Company in New Haven, New York, and Boston, and then, from 1990 through 2006, as the series editor of The Best American Short Stories. She co-edited, with John Updike, The Best American Short Stories of the Century. She is also the author, with her yoga teacher, Rolf Gates, of Meditations from the Mat: Daily Reflections on the Path of Yoga. With Kathleen Hirsch she co-edited an anthology of short stories about motherhood, Mothers: Twenty Stories of Contemporary Motherhood.
Her writing has appeared in O The Oprah Magazine, Real Simple, Country Living, Family Circle, Redbook, and other publications.
Katrina lives in rural New Hampshire with her family and their faithful border collie, Gracie.
Ordinary Day Gallery
Click here to view the gallery
Words that inspire me
I may not have gone where I intended to go but I think I have ended up where I needed to be. – anonymous
Courage does not always roar. Sometimes it's the quiet voice at the end of the day saying, "I will try again tomorrow. – From reader Judy Berna, mother and blogger at justonefoot.blogspot.com
As sons and daughters, sisters and brothers, mothers and fathers, we are all caregivers, and love is the care we give. Actually, that expresses love in a stingy way, as though it is rationed from one to another. Love is far more than that. Love is what we are, when we drop all the things that stand in the way. – Karen Maezen Miller
Our thoughts create our world. – Anon
You will find, as you look back upon your life, that the moments that stand out, the moments when you have really lived, are the moments when you have done things in a spirit of love. – Henry Drummond
To be present is far from trival. It may be the hardest work in the world. And forget about the "may be." It is the hardest work in the world–at least to sustain presence. And the most important. When you do fall into presence, you know it instantly, feel at home instantly. And being home, you can let loose, let go, rest in your being, rest in awareness, rest in your own good company. – Jon Kabat-Zinn
Breathe. Pray. Be kind. Stop grabbing. – Anne Lamott
If you don't like something change it; if you can't change it, change the way you think about it. – Mary Engelbreit
Let us rise up and be thankful, for if we didn't learn a lot today, at least we learned a little, and if we didn't learn a little, at least we didn't get sick, and if we got sick, at least we didn't die; so, let us all be thankful. – Buddha
I think, what has this day brought me, and what have I given it? – Henry Moore
Sometimes the most important thing in a whole day is the rest we take between two deep breaths, or the turning inwards in prayer for five short minutes. – Etty Hillesum
What is the good of your stars and trees, your sunrise and the wind, if they do not enter into our daily lives? – E.M. Forster
The greatest degree of inner tranquility comes from the development of love and compassion. The more we care for the happiness of others, the greater is our own sense of well-being. – Tenzin Gyatso, the 14th Dalai Lama
A suggestion: As you go about your day, stop for a moment and notice when something wonderful happens. Then say to yourself while still in the glory of the moment, "I have had this." This is the acknowledgment that "No matter what happens tomorrow, I have had this today." It is in the noticing of the little things that you truly get the feeling of a life well-lived… that wonderful hot shower, that kiss from a loved one, the fact that your car started, that great dinner you are eating, the warm rays of the sun, a candy bar, a wonderful television show… – Susan Jeffers
Too often we underestimate the power of a touch, a smile, a kind word, a listening ear, an honest compliment, or the smallest act of caring, all of which have the potential to turn a life around. – Leo Bascaglia
You can't sit around and wait for the storm to be over. You've got to learn how to dance in the rain. – Anonymous