"Activism is the rent I pay for living on the planet."   ~ Alice Walker
These days, many of us are profoundly aware that the rent is going up. And, out of our deep love for our lives, our world, and each other, we respond in countless ways — with our voices, our dollars, our time, our conversations, even our bodies, as we dig deep and work together to make things better for all.
As every long-time reader here knows, one constant for me over the last seven years has been an annual commitment to help improve the odds for women diagnosed with reproductive cancers.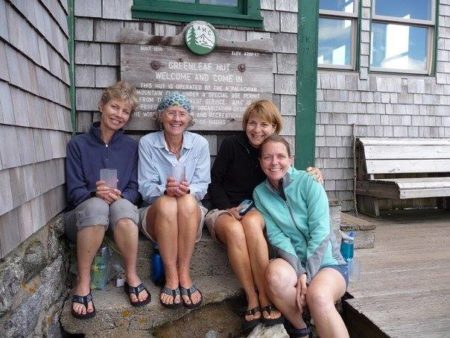 It has been seven years since my dear friend Diane died at age 55, after a four-year battle with ovarian cancer. I think often of all she's missed — a daughter's marriage, a son's graduation from business school, seven Christmases, seven family vacations in Maine, the list is endless.
But I also recall the powerful ways in which her courage and grace continue to inspire those she left behind.  Her example galvanized the rest of us — to be braver and more generous ourselves, and to do our part to make a difference in the lives of others, one step at a time.
Raising money and walking the Jimmy Fund Marathon route with Team Diane is my way of upholding the legacy of my own beautiful friend who died way too young. But it's also a way to ensure that we — those of us who walk, and every single person who donates to this cause — are making the odds better for each of the 22,000 women who will be diagnosed with ovarian cancer this year.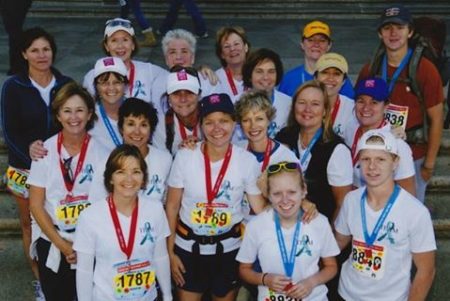 A month from tomorrow, I'll be out there, walking 26.2 miles to raise funds for Dr. Ursula Matulonis's cutting-edge team of researchers at Dana Farber.  Dr. Matulonis was Diane's doctor and, in the years since, she has become both a friend to our group and an inspiration to all of us who continue to support her work with the funds we raise. Thanks to the clarity of Diane's final wishes, every dollar donated goes directly to Dr. Matulonis. In the last seven years, much progress has been made.
This year, I'm especially looking forward to Sept. 24 because Team Diane will welcome Diane's older daughter and her new husband to our ranks. Also, my own "soul" daughter Lauren will fly up from Atlanta to walk with us.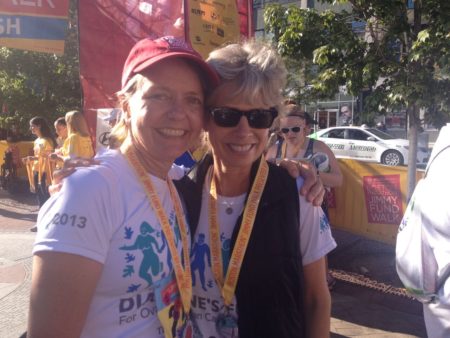 Our team began with loved ones, but the circle has grown to include many who didn't know Diane but who have been touched by her story or by cancer in their own lives. This cause, and our annual contributions, have far exceeded anything we could have imagined when we first set out to support a fund in our friend's memory. I'm pretty sure she would be delighted to know how far the ripples have reached.
Many of us feel stretched thin right now, as we look for ways to promote healing in our world. That said, I'd be enormously grateful for your support, in any amount. And please know, I will be thinking of you and your loved ones as I walk on September 24.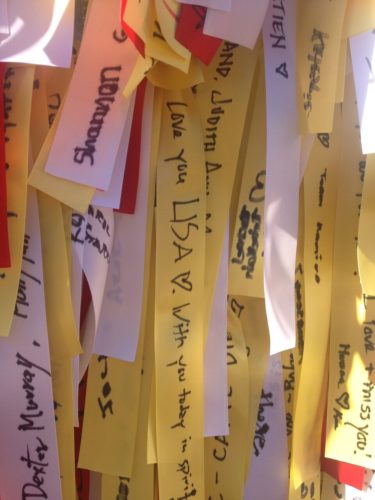 (One thing I've learned over these last months? Paying rent actually feels pretty good – much better than the alternative!)
Click here to learn more and to support my walk: http://www.jimmyfundwalk.org/2017/KatrinaDiane
Gratefully,
Katrina
Support my walk, leave a comment, and you'll be entered in a drawing to win two books.
It's become something of a tradition for me to take this opportunity to give away a book or two, just to say an additional "thanks" to you — for reading, for being here, and for all you do.
If you choose to donate, be sure to leave a comment below. I'll enter your name to win a copy of Mary Oliver's "A Thousand Mornings" (because Diane and I shared a love of Mary Oliver's poetry) and a signed copy of my own "Moments of Seeing" (because some of our long friendship is captured in those pages, and well, just because).
And if you want to meet Diane and see our team in action, take a few moments to watch this video Lauren created for us. It's a great reminder of exactly why we do what we do!
Donating is one-click easy, here.  And I'll choose a book winner at random on Sept. 25.  Needless to say, my heartfelt thank you's will come to each and every one of you.
SaveSave
SaveSave
SaveSave
SaveSave
SaveSave
SaveSave
SaveSave
SaveSave