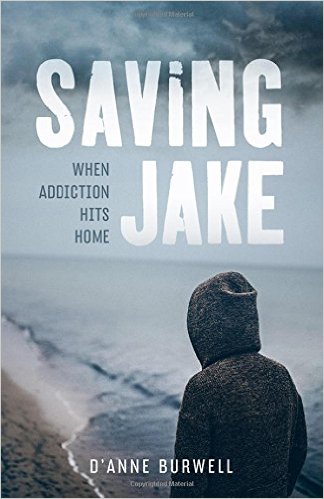 Since writing last week about my son Jack's addiction and first steps in recovery, I've been inspired and humbled and deeply moved by the stories so many of you have shared, both here on the website and in private emails. This conversation, still ongoing, is a beautiful, necessary reminder that we are all connected — not only by our struggles but also in our hope for our loved ones and in our compassion for one another's challenging, complicated journeys.
Our culture is obsessed with perfection – and with hiding our problems. But what a liberating thing it is to realize that our private battles are, in fact, universal. And that they are also our richest opportunities for being able to fully share in both the grief and the joys of others.
And so, in that spirit of compassion, I would like to share with you an intimate, courageous book that made a profound impression on me.
Last May a reader of The Gift of an Ordinary Day wrote to say that my book had been "a balm" to her "roughened mother's soul." D'Anne went on to reveal that she'd come to cherish life's quiet, mundane moments by way of a different path: "My 23-year-old son is three years clean from Oxy and heroin."
D'Anne has written about her family's experience in a profoundly revealing, quietly instructive memoir called Saving Jake: When Addiction Hits Home. As she explains, "Too few books have been written by parents battling the disease of addiction, while meanwhile an epidemic of prescription drug abuse leading to heroin in our youth rages on."
I will admit that I read much of this utterly harrowing, ultimately heartening book through tears. Tears of recognition. Tears of empathy. Tears that came simply from knowing, "This could be me."
I will also admit that once I started, I couldn't put Saving Jake down. D'Anne Burwell writes with a novelist's gift for dialogue and detail. The result is a riveting story that held me in its grip even as it changed many of my assumptions about addiction and recovery.
And then there's this: D'Anne could easily be my best friend — or yours. With every page, I thought how with a few different strokes of fate, her story could be my story, or any family's story. In fact, it's a story that's unfolding in some variation right now in thousands of homes across the country.
Smart, engaging, athletic, Jake seems bound for success. When his grades begin to slip, when he withdraws from sports and his active family, his parents are concerned but realistic: teenagers need their space. And Jake is adept at coming up with one reasonable story after another. But it doesn't take long for his life to spiral downward. Experiments with marijuana soon lead to OxyContin. Addicted to heroin within a year of leaving home for college, he drops out of school, walks out of rehab, and winds up homeless on the streets of Boulder.
I stood gripping my kitchen countertop, taking short panting breaths, feeling as if I'd been squeezed inside the darkest tunnel. My son's lies and excuses had obscured that his life was falling apart. I'd suddenly strung it all together—the soot on his forehead, the hollowed-out Bic pens, the wadded up foil, the ruined finances. My nineteen-year-old son was addicted to OxyContin.
Struggling with fear, guilt, and a desperate desire to help her son, D'Anne must also confront new fissures in her marriage, her husband's own anger and confusion, and their daughter's depression. The disease of addiction affects them all, forever reshaping the dynamics of their close-knit family life.
Meanwhile, engaged in a fierce battle to save her child, D'Anne learns of the terrifying links between prescription drug abuse and skyrocketing heroin use among teenagers and young adults – kids from good backgrounds, solid families, and loving homes whose lives are nevertheless quietly, tragically spinning out of control.
Twice now I've watched my son spiral down into skin and bones, hollow eyes, and an empty soul. Powerlessness is tearing my heart apart.
With a flair for the quiet drama of real life, D'Anne Burwell traces each step of Jake's journey from typical American high schooler to homeless addict who's exhausted every option but one: the ultimate choice between life or death. And in the process she shares her own painful education as she comes to understand that to save her child she must step back and allow him to fight for his own soul.
As soon as I finished reading Saving Jake last spring, I brought the manuscript (as yet unpublished) over to a close friend whose own son is in recovery from heroin addiction. Taking the book from my hands she looked at me and asked, through sudden tears, "Does this boy live? Because I don't think I can read this if he doesn't."
Jake is one of the lucky ones. He does live, but his survival is not a foregone conclusion. Many of our kids don't make it. If you have teenagers in your life, you already know: these are confusing times and everyone is vulnerable. Life changes in a moment. Addiction is a disease. And no one is immune.
I do think that if every parent were to read this book, however, we would have a much better sense of what we're up against. Our kids and our families might have a better chance. Knowledge is power, after all. And D'Anne Burwell has done a great deal of homework. Her brave, compelling book removes the shame and silence from addiction and brings the truth of this epidemic into clear focus. If your child is struggling, you will find companionship and comfort in these pages. And if you are struggling, D'Anne's own journey of recovery will offer you a first-hand portrayal of what it means to detach with love.
In fact, the hard-earned wisdom of Saving Jake is a gift to anyone who has ever loved a child, harbored hope for another's healing, or come to the hard realization that the only life we can save is our own.
enter to win a signed copy
Saving Jake was the 2015 USA BEST BOOK AWARDS winner in the category of Health: Addiction and Recovery. D'Anne Burwell has kindly agreed to sign two copies of her book, for two of my readers.   To enter to win, simply leave a note in the comment section below. You can share a quote that has inspired you on your own journey. You can offer a reflection. Or you can just say "count me in." Two winners will be chosen at random after 10 p.m. on Friday, February 26.
Want to read now? To order Saving Jake from Amazon, click here. (This is an Amazon affiliate link.)