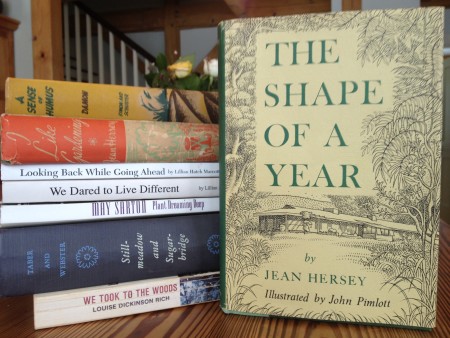 It's snowing again, for the third time in a week. In New England, and certainly here in our part of New Hampshire, it's a season of enforced respite from the comings and goings of our busy everyday lives. We can fight the weather (not much of a contest there!), or we can embrace the challenge of an uncompromising northern winter, layering on fleeces and wool socks, planning ahead, slowing down. I choose to acquiesce to this season of storms, keeping more food in the refrigerator, making pots of soup and chili that last for days, shopping less, driving less, snowshoeing more, writing more, reading more, gazing out the window more.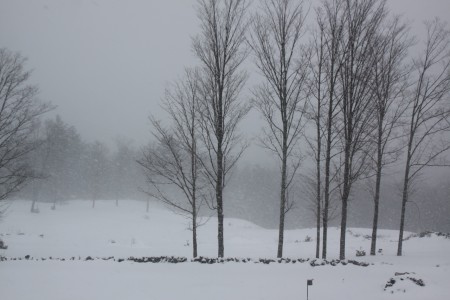 This morning, it's pretty wild outside — a bitter, relentless wind drives vast, swirling curtains of powder across the meadow and sends silent clumps of snow crashing from tree limbs. With the temperature dropping steadily and the snow already hip deep, it would be easy to view yet another four or six or sixteen inches of snow as an annoying inconvenience. But I'm seeing this latest storm as a muffled blessing, an invitation to stay put today—no place to go and nothing to do, at least until the roads are cleared.
Looking up from my stool in the kitchen, I spot the empty bird feeder swinging in the wind and a sturdy cardinal, all puffed up and hunkered down in a nearby snowdrift, bright as a jewel against the blanket of white, patiently waiting for his breakfast. We all need to eat.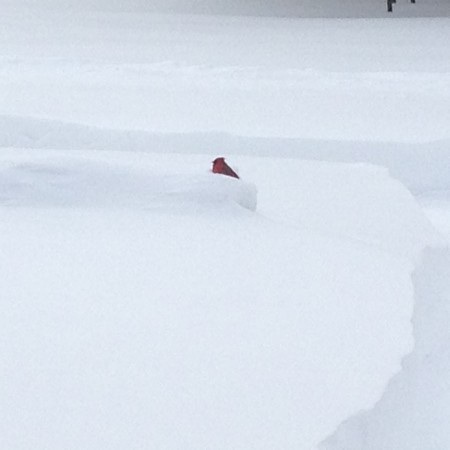 I slip on Steve's tall black boots to trudge out and fill the birdfeeder, scattering some extra nibbles along the top of the snow-covered stonewall — a sunflower seed buffet for the squirrels and the jays. A pair of chickadees arrives before I'm even back to the door, the two of them too hungry to be shy. I stand there quietly for a moment, close as I dare, to watch them take turns plucking seeds from between the wires. But my fingers are already numb with cold. I'll skip the long walk today.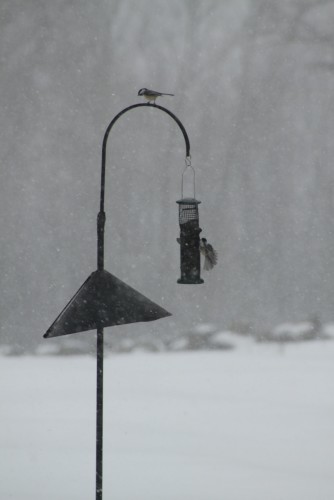 Back inside my cozy kitchen, second cup of coffee in hand, I pick up my book.
More and more these days, I want to close my computer, silence my phone, and steep in the silence. And yet, being quiet in both body and soul can be a challenge – especially given the countless distractions, obligations, needs, and desires that tug at the coat sleeves of my attention each day.
And so, I've been giving myself this small gift of time, a few minutes of uninterrupted reading before the work of the day begins. I have a stack of new books waiting on the bedside table and I'm nearly done with Anne Lamott's wise and funny essay collection, Small Victories. But in the silent expansiveness of these winter mornings, as I set a tone for my day, I'm drawn not to the latest literary releases on my shelf or to the novel half-read on my iPad, but to a modest, gently worn, long out-of-print memoir called The Shape of a Year by Jean Hersey.
I have a special place my heart for such chronicles of daily life as it was once lived by women who have long since left this earth. (May Sarton's Plant Dreaming Deep is perhaps my favorite, but there are others, too, memoirs by Louise Dickinson Rich, Elizabeth Coatsworth, Florida Scott Maxwell, Gladys Taber, and Madeleine L'Engle.) These graceful, unaffected writers feel like soul friends to me, kindred spirits who are still alive on the page, their own ordinary days eternally vivid and fresh simply because they took the time to notice, to watch, to reflect, and to write things down.
In a world that's constantly urging me – all of us — on to the next new thing, these quiet, by-gone voices are rarely heard. Yet there's a certain pleasure to be found in turning back instead of pressing forward, and in discovering the worth and beauty in a book that's old, unknown, unsung, unavailable on any book seller's front table. (Maybe I also like the idea of some yet-to-be-born woman sitting at her kitchen table on a winter's morning fifty years from now, reading a time-worn copy of The Gift of an Ordinary Day, and feeling a stirring of kinship with its long-gone author.)
And so it is that this is humble lineage feels precious to me, a reminder that throughout the ages we humans have expressed our love for the world by noticing it. No matter what century or country we inhabit, we learn, each of us in our own way and our own time, to nourish our souls by attentiveness.
It's true that our mortal lives are fleeting. We don't last, but the words we commit to the page do. Ten years ago, when my husband and I bought the old summer cottage that became our first home in New Hampshire, The Shape of a Year was one of many forgotten volumes left behind in the bookshelves here. Although the cottage itself eventually had to come down, I couldn't part with all those dear, dusty, old books — relics of other lives, other summers, other readers who must have whiled away August afternoons on the screened porch that would soon exist in memory only. I packed the books away before the wreckers came.
Much later, when our new house was finally built on the site of the old, I put a few of them back on my shelves, with a sense that I was honoring the past by inviting these abandoned volumes to reside with us in the present. Recently, while searching for some other memoir, I found myself pausing with Jean Hersey's book open in my hands. It was a January afternoon in the year 2015. And, too, it was January 1967. Another time, another woman, another life.
Quiet and smooth, fresh and untouched, the new snow lies across our meadow. Its pristine surface catches the sunlight, and tree shadows stretch like great blue pencils over the unbroken white. The snow folds gently over rocks and hummocks half concealing, half revealing a variety of different shapes.

So lies our year ahead, its basic ingredients sun and shadow and suggested shapes of things to come. I wonder what we will do with this year, what it will do with us, and what together we and life will create during the twelve months ahead."
The words captured my attention, as if I were being summoned to stop what I was doing and allow time to fold in upon itself. And what I discovered, reading on, was something entrancing and lasting between the faded covers: an intimate record of a singular life well lived. A deep awareness of what matters and of what endures — the pulse of nature, our human yearning for connection, the turning of the seasons, the patterns beneath the surface of daily life, the unadorned beauty of simple prose.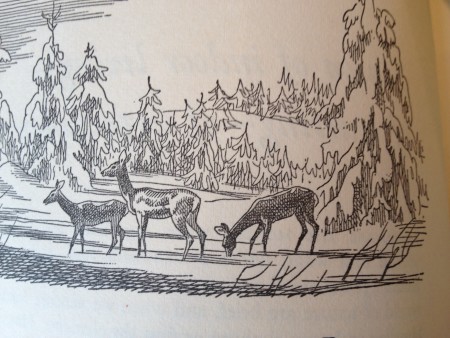 On this blustery February morning, with our own birds well supplied with seed, I accompany my new friend into her long-ago February observations. These winter mornings, she writes, "are like opals, soft, milky white and pink around the edges." Yes. I know those colors, too. Across the span of years, a hand extends for mine. I take it, and read on:
It's a joy to feed the birds during the winter. In a blizzard we are literally a lifeline to these lovely creatures. You get to know the different kinds and sometimes certain birds themselves. One particular chickadee is my friend. Each day I'm especially pleased when he comes for his sunflower seed. He perches near me while I scatter food."
And with that, our bond today is secured – she's watching her birds as I look out for mine. Not much happens in The Shape of a Year, beyond one woman's close observations of the world as she finds it. The world I live in today is much changed from Jean Hersey's world of 1967, but the things that matter remain the same: compassion, love, nature's eternal rhythms, shared laughter, a sense of wonder. My new friend writes about the very things I notice.
The scent of February: "February air has a flavor all its own. It is not only crisp and cold and tingles in your nose when you go walking, but something more. We hear a lot about spring air, summer air, and that of autumn. But do pause briefly and appreciate the air that nature sends us in midwinter."
A full moon on snow: "It was beautiful outside. Shadows cast by moonlight weave their own magic spell. Moonlight was streaming over the garden where seeds will sprout and grow, where vegetables will nourish and fragrant flowers bloom. It seemed to me as I stood looking out that many of the things we get all stirred up about have less value in the overall pattern than the sight of a full moon shining down on a sleeping garden, or tangled up in the bare branches of a maple tree along a stone wall."
The awkwardness of change: "A restlessness in our bones responds to the wild restless winds of the month. The wind in January awakens a kind of strength. February storms rouse our spirits and hearten our defenses. But a tearing March wind howls through us exposing lonely and unfamiliar areas. We are not at home with the strange impulses and wild, undisciplined thoughts that go blowing through our minds and emotions. Some days, confidence shrinks to the size of a pea, the backbone feels like a feather. We want to be somewhere else, and don't know where; we want to be someone else and don't know who."
Time marches on, the details and demands of our daily lives evolve, the laptop I'm typing on bears little resemblance to the typewriter that I imagine must have sat upon Jean Hersey's desk. And yet, the inner life, the quiet work of seeing deeply into the nature of things, the familiar duties that accompany each hour of a writer's day and each change of season – these things are a constant thread, connecting us. We water plants, mix pancake batter for breakfast, wrestle with a paragraph till the words are just right to the ear, relish an evening spent alone reading in bed. If we lived next door to each other, we would be friends. Instead, for a few minutes each morning, we share a silent conversation, a kinship that transcends time and space.
And it occurs to me that what draws me to this thoughtful, introspective woman, and to her unassuming record of a long-ago year, is something as simple and as challenging as this: a mutual if unspoken yearning to heed Mary Oliver's instructions for living a life. "Pay attention, be astonished, tell about it."
enter to win your own copy
I have located one gently used but perfectly lovely copy of Jean Hersey's special book to share with you. To enter to win The Shape of a Year, leave a comment in the comments section below. I'd especially love to hear if there's an old or little-known book that holds a special place in your heart. Or, you can share a glimpse of your winter days. Or just say, "Count me in." I'll choose a winner, selected at random from all the comments, after midnight on February 14.  As always, I love hearing from you. (note: book titles are affiliate links)