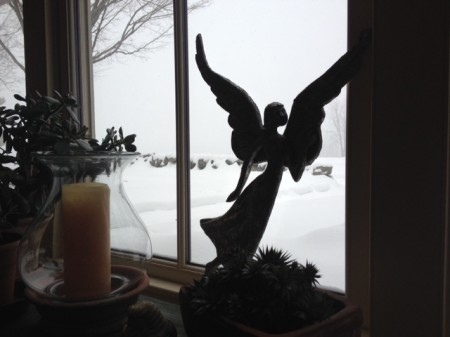 As I type these words, the world beyond my window is blanketed by snow.  There is silence in the house, save for the hum of the refrigerator, the whisper of warm air rising from the grates in the floor.  I've laid in groceries, mopped the salt and grit from the entryway, put tulips in a vase on the table.  The shoveling and snow-clearing can wait. There is no place to go, nothing to do but chop and roast some vegetables later for dinner.  Time slows. Edges soften. I feel a weight in my heart slowly begin to lift, my breath settle back into a deeper rhythm, my own sense of myself returning.
For a week I've been struggling with some old, familiar demons.  The fear of not being enough.  The need to protect my tenderest, most vulnerable feelings from the harsh light of day.  Self-doubt.  Regret for things said and unsaid in a relationship I cherish.  The wish that I could feel less, hurt less, and slough off more.   A piercing disappointment that try as I might to shape my life, there is and will always be so much that's beyond my control or understanding.  The realization that I'm not quite as good at non-attachment as I like to think I am.
"The root of all suffering," the Buddhists say, "is the desire for things to be different than they are."
So simple.  So true.  But knowing it is so doesn't make the wanting and the wishing go away.  And an intellectual understanding of melancholy does little to ease the sadness that is, I suspect, simply part of being alive, an essential ingredient of our muddling, hopeful humanness.
Yet, if growing older is teaching me anything – anything that makes me feel a bit more at home in my  emotionally porous and decidedly solitary soul – it's that I can survive my own feelings.  Instead of numbing them, I can allow them the full measure of their power — dark and chaotic as that power sometimes is.  Instead of turning tail and running in the direction of busyness or distraction, I can remind myself to be still, uncomfortable as stillness may be.  Instead of masking sadness with anger and pretending I'm mad, I can let tears fall and acknowledge that I hurt.  Instead of pasting on a stiff upper lip and insisting that I'm fine, I can gather up my courage, invite a trusted friend into my murky corner and concede that, for the moment anyway, I'm not fine at all.
And slowly, the emotional weather changes.  I know better, finally, than to think I can make myself stop feeling a certain way, any more than I can wish the snow to stop or the sun to shine.  But eventually the sky does clear.  Always. Sadness gives way to equanimity.  Hopelessness is nudged aside by quiet, unexpected joy.  Gratitude turns grief a different color.  Feelings go away because others come along.  The trick, perhaps, is simply to keep the flow going.  To watch and feel and wait and trust.  To judge myself less harshly and to welcome all my feelings as reminders that I'm still alive — alive and fully engaged in the endlessly challenging task of being human.  Which is to say:  I'm doing the best I can, and giving myself permission, again and again and again, to love and receive love in return.