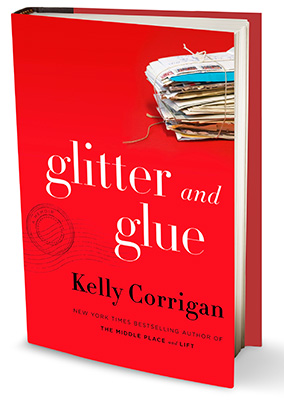 I was sitting at my kitchen table answering email last Monday when a note from Kelly Corrigan popped into my inbox.  I don't know Kelly personally, but somewhere along the way I must have signed up to be on her mailing list.
The note was casual, hastily typed, without so much as a capital letter – the kind of quickie email I'd expect to get from a close friend:
22 years ago i started writing a book about a family i lived with in australia and how that radically upended many opinions i held of my mother. 
Below, there was a link to a reading Kelly had done the week before, in a friend's living room in California — an essay that serves (quite brilliantly) as a trailer to her new book, Glitter and Glue.
And so it happened that I was one of the first 100 or so people last Monday to click over to YouTube and watch Kelly talk about how her goal coming out of college was to become Interesting, with a capital "I."
Convinced that "things happen when you leave the house," Kelly sets off with her college roommate to travel around the world.  But it's not long before she runs out of money, her dream of being a hippie explorer derailed by lack of funds by the time she hits Australia.  Instead of trekking in Tasmania, she winds up caring for two newly motherless children in a suburb north of Sydney.
It's a coming-of-age story with pictures, condensed into five minutes, and it makes for great video. I was still wiping away tears as I shared the link on Facebook.  And then, without really thinking about it, I sent Kelly an email in return.  "Love the video," I wrote. "And we share some territory."
A reply flew back within a minute: "Of course I know you!"  Two days later, two books arrived from her publisher.  One for me to read and keep, and another for me to give away to one of you.
And here's the amazing thing.  As I sat down on my sofa and began to read Glitter and Glue, it actually did feel as if I were settling in for a good long talk with my best friend.
Such is the magic of Kelly Corrigan.  The spell she casts – an irresistible  mix of vulnerability, heart, humor, bad-girl charm, racy language, and hard-won wisdom – draws you in close and holds you tight.  Her words weave an invisible inner circle, and there's no place you'd rather be than right at the center of it with her, sharing a second cup of coffee, leaning in close so you won't miss a word, getting down to the heart of the stuff that really matters.
So, I should warn you now: You will not read the first pages of Glitter and Glue and then set it down to go off and tend to other things.  That would be like cutting off your best friend while she's in the middle of telling you the most compelling story any of us have to share:  the story of how we become who we are.
Glitter and Glue is on one level a self-deprecating, poignant tale of an impulsive, self-absorbed young woman who drinks too much, smokes too much, lies a little, kisses a gazillion boys, and fancies herself a carefree rebel – only to find herself broke, far from home, and forced to come face to face with herself and the hard truths of real life.
"This is not what I left home for," Kelly whines, feeling sorry for herself on her first day on the job, "I'm a nanny, a fucking nanny."
But as she soon discovers, she is also something more:  she is her mother's daughter.  Half-way around the world from the home she couldn't wait to escape, she has no choice but to step up to the plate in this somber household still reeling from tragedy.  There is no hope whatsoever of filling the shoes of the lovely young woman who died too soon.  But as she packs lunches and braids hair and dispenses hugs and kisses away tears, Kelly begins to realize she does know what to do.  And that she's not all alone after all.
On the contrary.  She hears her own mother's voice everywhere – nudging and advising, cautioning and directing, guiding her through this unknown landscape called raising children — territory  that proves to be as challenging and rich and rewarding as any trek through a foreign land.
Day by day, the brash young woman who defines herself with words like "Intrepid," is transformed by the humble work of showing up and doing what needs to be done for a family numb with grief.  Her heart opens and softens. She falls in love with exuberant five-year-old Martin and his more reserved and resistant big sister Millie and, in different way, with the reclusive, wounded half-brother who lives alone in the garage.  She wonders about the pretty young woman in the photographs who didn't live to see her children grow up.  It occurs to her she's growing "less smitten with world travelers and their ripping yarns, and more awed by people who have thrown themselves into the one gig that really matters: parenthood."
And she finds herself thinking of her own mother in a whole new light.
For the first time, it dawns on Kelly that things happen inside the house, too — hard things that require more strength and resilience and courage than bungee jumping off bridges or deep sea diving in caves.
"Maybe the reason my mother was so exhausted all the time," Kelly muses,  "wasn't because she was doing so much, but because she was feeling so much."
And this is what Glitter and Glue is really about.  It's about the birth of empathy.  It's about what it means to have a mother and what it means to be one and how it feels to lose one.  It's about the difference between skimming along like a tourist on the surface of your own life and digging in deep.  It's about grief and loss and growing up, and the realization that our main job here on earth isn't to change or turn away from the people we love but to learn to do a better job of seeing them as they are and loving them as best we can for as long as they are here. It's about the mysterious, ineffable bond between mothers and daughters and how that bond is transformed by time and experience and compassion.
"If you had asked me, after I graduated from college, whose voice I would hear in my head for the rest of my life," Kelly writes in the prologue, "I'd have said some combination of my dad's and my roommate Tracy's and Jackson Browne's.  I would have continued with ten or twenty or two hundred others before I got to my mom."
Yet it is Mary Corrigan, the quiet hero of 168 Wooded Lane, with her inviolable rules and her proud stoicism and her serious approach to the serious work of motherhood, whose no-nonsense voice harmonizes with her daughter's more exuberant one on every page of this funny, tender, and ultimately very moving book.
"Your father's the glitter and I'm the glue," Kelly's mom told her when she was in high school, by way of explaining the family dynamic.  He was the star of the show; she, resigned to forever remain his less compelling, less interesting understudy.
Fortunately for us, Kelly Corrigan draws her complex, demanding, passionately devoted mother out to join her on center stage in Glitter and Glue.  And then she illuminates her for all time in the golden glow of love.  In the process, she reminds us — as if we could ever really forget — that the great adventure isn't the one we have to cross an ocean to find.  It's the one we're living right here, right now, in the midst of the people who know us best and love us anyway.
I have one copy of Glitter and Glue to give away!
To enter to win, you must be subscribed to my blog.  Then, leave a comment below.  I'd love to know, when you hear your own mother's voice in your head, what is she saying? Of course, you can also just say, "Count me in!"
I'll draw one winner at random after entries close at midnight on Tuesday Feb. 18.
Don't want to wait?  You can order Kelly's book now by clicking here. (I put the small commission I receive from this affiliate link toward buying more books to share here.)