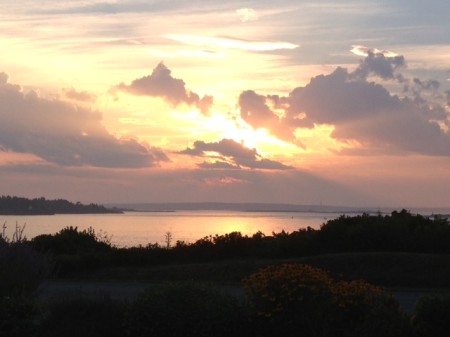 O
k," I said to my family, "I have a question."
We were halfway through dinner at my parents' house in Maine.  The sun was setting, casting the room in molten, amber light.  The table was littered with lobster shells and corncobs and wadded up napkins: the perfect ending to a perfect end-of-summer day.
No one could remember the last time we'd all been gathered together in this place we love, a place layered with memories and history and hallowed artifacts.  Twenty-six years ago this week, my husband and I were married in the church at the head of the cove.  We began our life together in the bedroom off the kitchen (repainted by my mom and dad in honor of the occasion) – the room where we still sleep when we visit and where my wedding dress still hangs in the back of the closet. Our sons spent all the best vacations of their childhoods at "Nana and Bapa's Maine house."
Even now, the books they read as children are stacked on the bedside table between the twin beds upstairs.  Winnie the Pooh sits in silent meditation upon a pillow; the old board games are piled neatly on the shelf; the sea glass and smooth stones they collected line the windowsills.
And yet, time and summer jobs and new interests and horizons have their way with all of us. Life doesn't' always carry young adults back  to their best-loved places.   But over Labor Day weekend, with both boys home, we seized our chance.  And for one night, my parents and the four of us were under one roof.
Of course, everyone knew what was coming: Mom was going to ask the family to reflect.
My dad rolled his eyes.   "It's a nice meal," he said, only half-joking.  "Do we have to make it meaningful?"  The kids laughed.  Steve said, "You can't stop her, you know."  And in fact, no one really tried.
What I wanted to know was simply this:  What moment from the summer are you especially grateful for?
Through all the years of our sons growing up, we asked "the gratitude question" at the dinner table at least once a week.  Passing was always an option, but I don't remember a single time that any of us actually chose to opt out.  There were plenty of  "terrible, horrible, no good, very bad days," as we used to call them, quoting the shaggy-haired, put-upon Alexander in Judith Viorst's beloved children's book.  But even at the end of one those days, it was usually possible to dredge up some small moment worthy of a smidgen of gratitude.  (A Jack classic:  "I saw a toad.")
But last Saturday, as the golden light faded from the sky, we were all feeling pretty expansive.  Gratitude was easy.
Jack talked about an August afternoon he'd spent at the beach with a best friend from childhood, whacking rocks into the ocean with a stick.  They did it for hours, this impromptu home-run derby, till they couldn't lift their arms anymore, or swing the stick one more time.  Nothing special, really — except that of course it was.
Henry told us about the final night of his summer job on the Cape, sitting at the piano with a friend at 1 in the morning, the two of them playing and singing their favorite Bruce Hornsby song together one last time before going their separate ways.  Not a big deal, perhaps, at the end of a summer full of opening nights and performances and drama.  Except that it was.
Steve, who has never had any interest in joining me for chilly early morning swims, decided this year that if I was going to start every morning of our August vacation by jumping out of bed and into the lake, he would do it too.  His favorite moment?  Swimming through the dark cold shadows, all the way out to the place where the rising sun is just hitting the water at dawn. I'm with him on this.  There is nothing quite like greeting the day by diving into it and swimming toward the light.  A small ritual, yes, but precious now to both of us.
My dad, who spent all of last summer wondering if he would ever recover from a debilitating slipped disc in his back, is so relieved to be able to move around again that he had a hard time choosing just one pain-free moment to be grateful for.  At seventy-eight, he wasn't at all sure he'd ever regain the ground he'd lost. Little wonder that fixing the roof last Saturday made him so happy.  "I was up and down that ladder fifty times today," he said. "I couldn't have done that a year ago."  Not a big deal, perhaps.  Except that, of course, it is.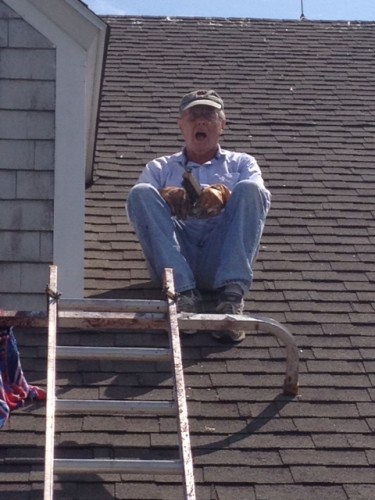 Well, my life isn't very dramatic at all," my mom began.  "But this moment meant a lot to me."  She had been watering her garden with the hose, she said, when a hummingbird appeared — so close she could have touched it — and then hovered there, thrumming its wings just at the outer edge of the spray.  She didn't move; the hummingbird didn't leave – it was the two of them, suspended in time, eyeing each other.  Just a moment, really, nothing dramatic at all.  But, as my mom said, "It meant a lot."
It probably doesn't surprise you that what struck me most as we went around the table was how utterly simple each of these memories are.  A moment shared with a friend.  A swim at dawn.  A day of work without pain. An encounter with nature. The kinds of moments available to most of us all the time. But also the very moments that are so easy to miss in our busy, wired, distracted lives.
At my parents' house last weekend, there wasn't a lot to do.  We read books, took walks, made meals, cleaned up after them.  I spent time alone at the water's edge with each of my sons, and we did exactly what we've always done there – climbed on rocks, played with rocks, made piles of rocks, collected rocks, skipped rocks.  We talked about everything and nothing.  We watched the sky and felt our hearts grow calmed by the sea.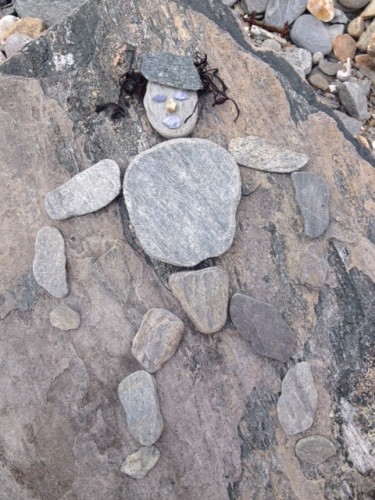 On Monday, we cleaned the house, changed all the beds, and loaded our stuff into the cars, Steve and Henry in one, me and Jack in the other.  I drove home in an epic traffic jam through pouring rain, stopped at the farm stand for some groceries five minutes before it closed, threw all our dirty clothes into the wash, and made some vegetable soup for dinner.  Four of us at the kitchen table, just as we were for years and years – and as we are so rarely now.
All week, with summer officially over and yet with both sons still home for a little while more, I've been thinking about what I most want them to take away when they leave again – Henry on Friday for a job in Minnesota; Jack, at the end of the month, for school in Atlanta.  I'd hoped for this "togetherness" time to be special, of course.  And I've looked forward all summer to these days in early September, when we would have some unscheduled time just to enjoy each other.
Things haven't gone quite as I planned. Last Wednesday morning I woke up with a toothache that quickly went from uncomfortable to painful to excruciating.  For me it's been a week of dental visits, curling up on the couch under a blanket, counting the hours between painkillers, sipping liquids through straw, and going to bed hours before anyone else. Not the memorable "togetherness" I'd envisioned.
But it's also been a week of moments I will remember:  Henry doing the grocery shopping and making dinner, including a killer blackberry hazelnut cobbler, the very last solid food I was able to eat.  Steve and the boys gathered round the TV in the kitchen, switching channels from the Red Sox to the U.S. Open.  Jack preparing ice packs for me and tucking them around my cheek.  The guys doing the dishes together, meal after meal.  My sons have taken care of me over the last few days with all the tenderness and compassion I could wish for.  In the meantime, they've happily gone about their lives here — taking runs, playing basketball, going for bike rides, seeing friends, feeding the dog, working for their dad to earn some extra cash.  And no one really needed me to do anything to make it "special."
What do I want my young adult children to take away with them into their own next chapters?  Maybe just this, the simple life instructions they already seem to have learned:  Be kind.  Pay attention.  Do what needs to be done. And remember that the little things, the small moments, aren't so little after all.  They are the texture and the truth of who we are and what we care about.
An update on my walk. . .
I did it!  Thanks to antibiotics, protein smoothies, Ibuprofen, and my dad (who is also my dentist), I was able to walk on Sunday with Team Diane.  Thanks to YOU, I not only made my fund-raising goal, but exceeded it.  More on all of that later.  In the meantime, know that I am deeply grateful for your encouragement and support.  We had a spectacular day and our group of 27 determined walkers raised over $35,000 for Diane's Fund, all of which will go directly to support ovarian cancer research at Dana Farber.
If you missed my blog post about my friend Diane, and why I support the Jimmy Fund Walk and this work, you can still  read it here.