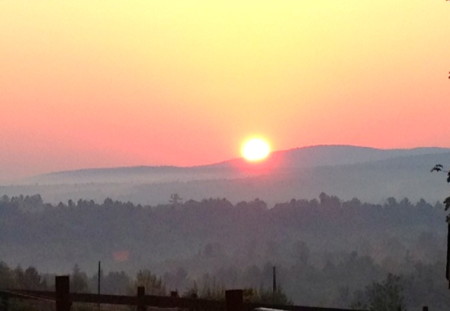 Iwas outside at dawn this morning, as I've been most days this summer. Standing in the wet grass, watching the molten, majestic sun slide from behind the mountain into a rose-colored sky, two thoughts occurred to me at exactly the same time: Life is still hard. And it's more beautiful than ever.
The hard things are easy to list. They've been running on an endless loop in my head through every sleepless night this week: An ongoing conversation with my younger son that keeps ending badly. The helplessness of not knowing how to make things better. Worries about the other son as he wraps up a summer job he's loved and embarks on a new life chapter. A slightly frayed, unraveling edge in my marriage — and not knowing how to mend that, either. The piles of things around the house that I should have cleared away by now and the to-do list that doesn't ever seem to get any smaller. The familiar, nagging sense that I'm spread too thin, letting too many people down, not doing enough or being enough or giving enough.
Wakefulness takes its own toll, as if exhaustion has peeled off a protective layer, leaving me a little more raw and vulnerable than usual. I am less resilient and resourceful; more prone to sudden, silly tears, frustration, anxiety. I do an interview over the phone, make a birthday dinner for my dad, hand-write a stack of letters, pay the bills, read a bound galley that needs a blurb, call to congratulate a friend who's just finished writing her book, sort the laundry, sweep the floor. I try again with my son. Take my husband's hand. Pick flowers for the table and bake scones from scratch. Take a deep breath, and then another. Take a run. Smile at a stranger on the street. These are all good things to do. And yet. My mind feels not quite all here. I'm tired. And it's still hard.
And beautiful.
There was, for starters, that sunrise. The spectacle of it, with a just-past-full moon fading away in the west as, for one fleeting moment, night and morning shared the sky. There was my phone vibrating in my hand even as I snapped this picture, a cherished friend's morning greeting arriving with the sun to lift my heart. There was the sleek beaver swimming silently upstream as I ran along the river toward town. There were my own two feet standing on my yoga mat, the stillness of mountain pose and eagle pose, the compassionate words of a teacher who knows precisely where I hurt, her instructions whispered in my ear. There was the sound of forty voices chanting, "Peace, Peace, Peace".
There is the quiet day unfurling as I sit here allowing thoughts to come and go, the steady accumulation of hours, the pulse of time passing. There is this house, this hilltop, this place we call home and the people who pass through the door; the memories layered over the course of years, the joy and sadness that have been accommodated beneath this roof. The knowledge that there will surely be more of each in all our futures.
There was dinner on the porch last night, the clatter of dishes, the deepening shadows, the white lights strung around the windows, the first stars. Good, strong coffee this morning in a smooth pottery mug that fits my hand just so; ripe peaches in a blue bowl; a row of tomatoes on the kitchen sill, gazpacho already made and in the refrigerator for tonight.
There is our beloved border collie who turned thirteen this week and still begins each day with a wild dash through the fields, the white flag of her tail wagging in enthusiasm. There are the lessons she teaches all of us, free of charge: roll in the grass, savor the moment, run while you can. And of course, this, a dog's essential truth: it's enough to offer love, no matter how imperfectly received or given.
There are the bronze-faced sunflowers blooming everywhere, taller than I am and still growing an inch a day, and creamy hydrangeas, their heavy heads bowing gracefully to the ground. There is the woodpecker upside down at the feeder, the dragonflies cruising open-mouthed above the shaded potted plants. There is the softness of this August afternoon, the gentle touch of wind on skin, the bees thrumming in the flower garden, the constancy of crickets, the wide, pale expanse of sky, the arc of a swallow's flight.
There is a sentence written by a stranger that takes my breath away. A letter from a reader in Ireland that erases miles and cultures and differences. There is the slow reaching out for connection, as my son wanders into the kitchen to make a sandwich and pauses to ask what I'm writing about. There is the relief, at last of, simply speaking a few words of kindness in return. There is the sound of the basketball thwacking the driveway and there is the knowlege that soon enough the ball will sit, silently deflating, in the closet. There is my husband, emailing from his desk at his office twenty miles away, making plans for next week and the week after that – the moving truck secured, the airline tickets bought, the rental cars, the dates on the calendar, the reminder that, come what may, we will get both of these sons of ours moved – one to Atlanta, one to Minnesota – and launched into the next phases of their newly-grown-up lives away from us. There is his steadiness and my gratitude for who he is and what he does.
There is, for now, this solitary hour on the screened porch. The laundry waiting to be folded. The few, final days we will all spend together in this house. The sense of summer's ending. The first red leaf on the maple tree. All that is unknown and unknowable. The densely woven fabric of our lives. The words that come. The feelings that need to be felt. Remembering, all over again, that this is the way life is. Hard. Beautiful. Both.
;
You still have one more week. . .
If you are a longtime reader here, you know that losing a dear friend to ovarian cancer three years ago was a turning point in my own life. I still miss Diane every day. I also know the best way I can honor her memory is to carry on the work to which she was so passionately committed — ensuring that any woman who follows in her footsteps will have a better prognosis than she did.
If you missed my blog post about Diane last week, I hope you will read it here.
A contribution to Team Diane and a comment on my Aug. 15 post will make you eligible to win one of the 12 copies I'm giving away of my collected blog posts — my way of saying thank you for supporting my 26.2 mile walk on Sept. 8. (Much as I would love to give every single one of you a bound copy of The View from My Window, I have only a dozen left on my shelf. Still, your odds are good! And please know that I am enormously grateful for every single donation.)
Winners will be drawn on Aug. 29. A huge thank you, my friends, and good luck to all.