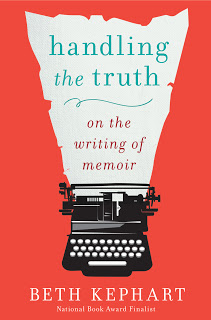 I don't quite remember how Beth Kephart and I first met; it feels as if we've been friends forever. More than two decades ago, we were young mothers at the same time.  We bore babies within a year of each other – beautiful, sweet-souled sons who didn't fit the mold or pass the tests or walk or talk on schedule. Sons we loved passionately, observed endlessly, fretted over, and prayed for.
Motherhood gave each of us our first subject.  And I suspect we both began to write for much the same reason: not because we had things figured out, but because we didn't.  Alone with our wondering and our worries, we turned to the page; perhaps it seemed to each of us the safest, most accessible place to wrestle with our mysterious maternal baggage — the unanswerable questions, irrational fears, and secret self-doubts, all inextricably bound up with our faith and hope and unwavering dedication to the vulnerable, precious beings we'd delivered out of our bodies and into the world. Writing about the joys and heartbreaks of raising boys who seemed destined to forge their own solitary paths through the untrammeled territory of childhood, we found our footing as both mothers and writers.  And then, through grace or happenstance, we found each other. 
In the midst of my early mothering journey, I discovered Beth's luminous, brave  memoir about her own young son and knew I'd found a soul mate.  In that pre-Facebook era, we reached out through time and space and made a connection — a few heartfelt letters and emails, a couple of intimate, memorable phone conversations, a flurry of cards.  She came to Boston to speak; I sat in the audience.  Afterwards, talking in person at last, we cemented things for good: we might live markedly different lives hundreds of miles apart, but we would also be friends, writing colleagues, fellow travelers.
As I've read my friend's work over the years – blog posts, novels, YA fiction, book reviews, five quietly magnificent memoirs – I've been increasingly in awe.  I'm dazzled not only by her output, which is prolific, but even more so by the sheer gorgeousness of her writing, the depth of her knowing and the intensity of her watching, the shimmering intensity with which she translates human experience into words that breathe with life and pulse with truth.
My e-mails to her are boring, I fear. "How do you do it?"  I've asked her again and again – as if Beth could actually offer up the secret ingredient that makes her sentences sing.
But I should have known that, one day, she'd try to do just that.  For she is as generous a writer as she is a friend.  And – lucky for the rest of us – she is also a thoughtful and devoted writing teacher.  For years, she has been teaching the art and craft of memoir, sharing the hard-won lessons of experience, dedication, and a lifetime's worth of reading with the students lucky enough to sit in her Penn classroom.
Now, the rest of us get to join those students and benefit from Beth's teaching. This week her beautiful new book about writing memoir, Handling the Truth, arrived in stores.  Which means I don't ever need to send her one of those "How do you do it?" e-mails again.  I can just return, over and over, to these pages. Ever since I read an early galley months ago (in one day, in one sitting, in awe, as usual), I've been eagerly awaiting the day I could finally share finished books with you here.
Beth has, as the reviewer at Library Journal noted, "created a work of art simply by reflecting on her own art—the writing and teaching of memoir. . . . She writes with the same lyricism found in her own works and offers here passionate encouragement for would-be memoir writers to embrace truth and empathy, mystery and exploration."
I want to give copies of this book to all my reading and writing friends.  I want to spread the word, gather up an impromptu book group, and then sit down and talk about the perils and pleasures of the writing life, the joys of reading the real stories of real people, and the courage it takes to share your life on the page.  This is a subject dear to my heart, of course, and Beth Kephart brings urgent news of the how-to's and the how-not-to's.  Here, a paragraph from her introduction:
Handling the Truth is about the making of memoir, and the consequences.  It's about why so many get it wrong, and about how to get it right.  It's about the big questions: Is compassion teachable? Do half memories count? Are landscape, weather, color, taste, and music background or foreground? To whom does then belong? And what rights to memoirists have, and how does one transcend particulars to achieve a universal tale, and how does a memoirist feel, once the label is attached, and what is the language of truth? Handling the Truth is about privileges and pleasures, about knowing ourselves.  It's about writing, word after word, small signifiers, and if it swaggers a little, I hope it teaches a lot."
It does teach a lot.  It does.  I needed this book.  So do you.
How to win a copy. . .
I've bought a copy of Handling the Truth: On the Writing of Memoir to give away here.  To win, just leave a comment below, answering the question: If you were giving your best friend a copy of your favorite memoir, what would it be?  Of course, you can also just say, "Count me in!"
I'll draw a winner on Sunday, August 18.  Good luck to all!
P.S.  As you've no doubt noticed, there have been some changes in this space.  My new, subtly redesigned website was a year in the making, and then, as life would have it, I've been too busy with various urgent family concerns to properly "launch" it.  So, in lieu of online fanfare, I've decided to simply give away a book I love  each week for the next month — one for each of the four themes featured on the new site.  This week, obviously, we are firmly in the Writing and Reading realm.  To read more about my own writing process and some books that mean much to me, click here.
P.P.S. And finally, a big thank you to Elizabeth Marro for her exquisite essay about loss, friendship, and the effect that reading Magical Journey had on her as she found her way through grief's dark night of the soul and, bit by bit, back into the light. I was touched and honored by her humanity and eloquence as she struggled to find a blessing even in a time of great loss.