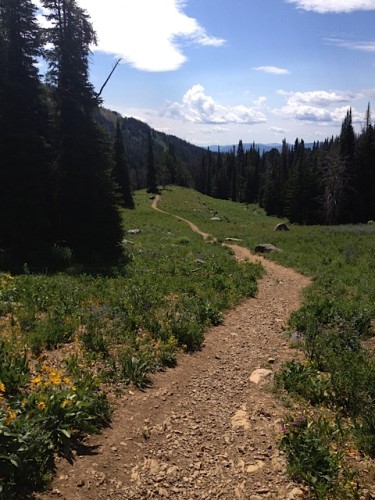 I had a whole month's worth of blog posts planned out.
I was going to give you a little tour of my new website, which has been a year in the making and which I've been eager to share with you — including the new sections on parenting, soul work, hearth and home, and writing and reading.
In honor of the six-month, "half-birthday" of my latest book, Magical Journey, I intended to excerpt some of the inspiring, heartfelt letters I've received from readers – and to ask you to consider buying a hardcover copy before they vanish for good from bookstore shelves, to make way for the last wave of summer beach reads.
I've been  looking forward to writing about my friend Beth Kephart's wonderful new book, Handling the Truth, which will be published next week, about the art of living well and the equally demanding art of making the personal universal. (For now, I'll simply say: if you write memoir in any way, shape, or form, you need this book.)
A summer vacation in Montana without our sons gave me lots to think about, as I both missed my boys on a daily basis (actually, on a moment-by-moment basis) and, at the same time, appreciated the freedom of not having to worry about meeting the needs and expectations of a younger generation of travelers. There is, I know, an essay to be written here.
And then, early last Sunday morning, came the news of a death. A dear friend's nineteen-year-old son — killed instantly in a tragic accident. 
He was a boy I've known ever since the day his mom joyfully revealed her pregnancy by announcing to a group of us women friends, "I did it again!" A boy I've loved and cheered for and prayed for since he arrived on this earth. A boy who grew, right alongside my own younger son, from a chubby blond toddler into a handsome, thoughtful, athletic teenager with a passion for music and motorcycles. A boy whose young life was both touched by early loss and full of hope and promise. A boy whose childhood was inextricably intertwined, day in and day out, with two other boys I love with all my heart. In the backyard that our three families shared, it was always Jack and Nick and Will. Three boys, born within a year of one another and living within a stone's throw of one another, who never had to arrange a play date because there was always a best friend right next door, ready to throw a baseball or play a game of hide and seek or go in search of an adventure.
There is a part of me, of course, that yearns to write about the loss of this boy here, now, because writing is the way I work my way toward peace. But there is also a part of me that must acknowledge at this moment the utter failure of words.
I can't quite imagine writing any of those planned blog posts.  I can't do a Facebook update, or tweet about loss, or even wrestle an essay into shape in an attempt to make some kind of sense of things. When a young person dies, words fail and peace is a long time coming and there isn't any sense to be made. Perhaps "peace" isn't ever achieved. He was only nineteen and now he is gone. There is no peace in that. It may be that the most we can hope for is a slow, painful comprehension of one the hardest truths of all for a parent to bear: we can love our children, but love isn't enough to keep them safe. And that is simply all the more reason to love them as they are, while we can.
So, for now, I am going to be quiet. It's time for reflection and grief and presence where my presence is needed most. I'll be back soon.