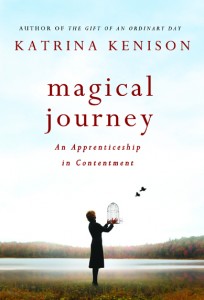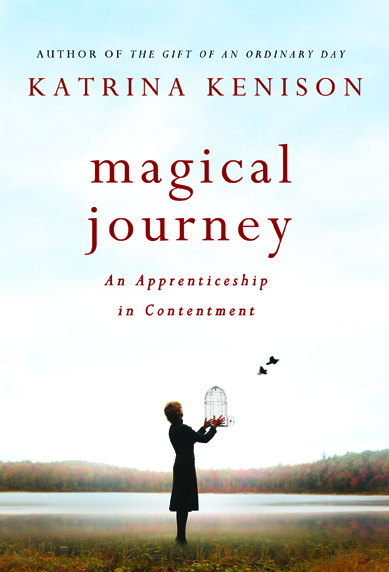 I've always loved this solstice season of short days and long, cold nights. It is as if all of nature is reminding me: it's time to slow down, be quiet, turn inward and embrace the darkness.
Yet, with a new book about to be published – my memoir, Magical Journey: An Apprenticeship in Contentment, will be in stores on January 8 — my task this December is all about going forth and spreading the word.
The good news for me: I know I can call on you, my readers here, to help me generate a bit of essential pre-publication action.
The good news for you: We don't even have to leave our comfy armchairs in order to create a little "buzz." (No fancy clothes or bullhorns needed.)
What you can do to help:
1. Watch the video, and then share it on Facebook and with all your friends. There's a "SHARE" button on the top frame of the player above. (Don't see a "SHARE" button on your screen? Click HERE instead, and copy & paste the link at the top of the page.)

My video for The Gift of an Ordinary Day, which I simply emailed out to 200 friends three years ago, has had nearly 1.7 million views on YouTube. This one, as you'll see, is completely different, but it's just as close to my heart. Hope it speaks to yours, too.
2. Click HERE – and read an excerpt. And then share that, too.

3. And finally, pre-order your own copy of MAGICAL JOURNEY now. (Click HERE to do that.)

First review just in, from Publishers Weekly: "An intensely moving tribute to the importance of enjoying every moment of life. . .[Kenison's] journey will inspire tears and determination, and remind readers that anything, 'done from the heart, changes the world in some small way for the better.'"
"Why pre-order?" you may ask.
Well, two reasons: First, your book will be delivered to your doorstep on January 8, the same day Magical Journey is released (and that is just a nice thing to look forward to, a week after New Year's). And, even more important, pre-orders and online activity are the booksellers' best indication that "something is happening" with a new book. Which means they are more likely to have it in stock, to put it on their front tables, and to let other readers know "it's here!"
Thank you! (And please do let me know what you think, I'd love to hear from you!)
Meanwhile, my early holiday gift to YOU:

I'm waiting to receive my very first finished author's copy of Magical Journey (it should be arriving any day now). And I've decided to sign and personalize it to give away to one of you. Here's how to enter to win:

Take any – or preferably ALL THREE — of the helpful actions above, and then leave me a comment here. I'll pick one winner, at random, after entries close at midnight on Tuesday, Dec. 11. If you win, you'll have your copy before they are available in stores. (In fact, you should even receive it before Christmas – and I'll gift wrap it myself.) Good luck to all!