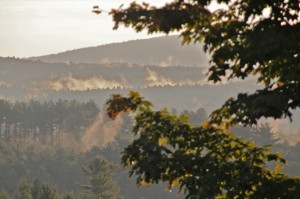 I'm probably not the only person who abandons her good habits when life speeds up, or who fails to practice when practice is the only thing that might actually save me from myself. My guess is that there are others like me, who get so frazzled and overwhelmed and caught up in the stresses of events and obligations and misunderstandings that we don't even see the plain truth staring us in the face: there is another way. A small shift in perception, a different attitude, a quieter approach.
And yet, knowing I'm not alone, and that failure is part of being human, doesn't make it easier to confront my shortcomings.
Writing this morning as the sky lightens, waiting quietly for words to come rather than rushing and grasping to get something down on paper, I realize that what I'm really waiting for here is a glimpse of the thread that might lead me back to me, or at least back to the person I still aspire to be: reflective, aware, moving slowly and attentively in the world rather than racing through it, all sharp elbows and jangled nerves and oblivious hustle.
The dawn sky is peach and turquoise behind the thinning canopy of golden leaves beyond my bedroom window. The clock ticks steadily on the nightstand. Gracie sighs and stretches and then goes back to sleep on the floor. My husband, away on a business trip, isn't here to see how quickly in his absence the other side of our bed becomes strewn with notebooks and pens, a wicker basket full of paperwork, a pile of books and pillows and half-done projects.
The day ahead is already pressing in – the housework I've postponed, emails that are unanswered, a daunting list of book tasks and family tasks and outdoor tasks needing attention. A long drive to reconnect with a cherished college friend after a gap of nearly twenty years. It's tempting to leap out of bed and get started, to go tearing into the day, as if by moving faster I might actually come out ahead, might win the big race to some invisible, constantly shifting finish line. Perform well enough, and I just might grasp the brass ring, might magically transform this scattered, overcommitted life I've created into the artful, more deliberate, simpler life I keep straining to achieve.
But looking back over the last week or so — a week of moving ever faster only to feel myself slipping more and more out of control — I do at least know this: the best thing I can do, both for myself and for those I love, is to remain here propped amongst the bed pillows for a while longer. To start the day in stillness, to sit, to breathe, and to patiently allow my heart its own slow refueling.
Gratitude for things just as they are seeps in slowly. It takes some patience to refill a soul, patience and a certain faith, too. Faith that the blessing I hunger for is already mine. I need only breathe in to receive it, exhale to offer it forth. Faith that grace isn't a prize to be earned or claimed but rather the gift of being alive, right here and right now, in this moment, no matter how many challenges await. Faith that who I am – this deeply flawed and wanting human self – is enough. Faith that life as it is – messy and muddled and fleeting — is life just as it is meant to be. Faith that paying attention is my true spiritual practice; kindness, my real work; and love the most creative and demanding path of all.
Practice, I know now, doesn't make perfect. The harsh, inescapable truth is that to live in this world is to both harm and heal. So is it really any wonder that we bring the greatest pain to those we care about the most? This week, I deeply hurt a friend. The injury I caused was unintentional, but no less damaging for that. Tending to these wounds, flinching at the raw and tender places in a relationship that means the world to me, I wonder how to make amends. There's nothing to be gained by dissecting the errors of my ways all over again. That list is long, and nothing special. And, as poet Mary Oliver reminds, "You want to cry aloud for your mistakes. But to tell the truth the world doesn't need any more of that sound."
What can I do but this: Say "I'm sorry." Bow low and accept forgiveness as its offered, in whatever form it takes. Set down the heavy, awkward burden of shame and take up in its place the worthy work of paying closer attention. Be humbled before all that I don't know. And then move mindfully forward, taking even greater care. Commit all over again to love, to kindness, to the inestimable gifts of friendship, to practice.
What have I learned? Only to keep trying. And to be grateful for every second chance, every opportunity to become more skillful in these demanding arts of living and accepting and loving.