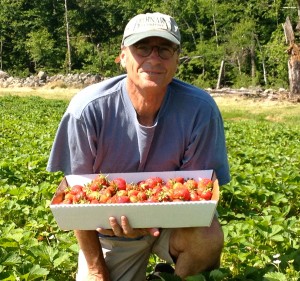 As a child, I lived next door to an elderly couple who spent their golden years cultivating gorgeous roses, raising chickens, growing strawberries, and nurturing a special friendship with my little brother and me.
Each year, the last day of school seemed to magically coincide with the beginning of strawberry season. For every two quarts we picked for Dike to sell for fifty cents from his side porch, we were allowed to take one home for ourselves, which seemed to my brother and me like gainful summer employment. Once we'd picked our quota, we were rewarded by the pleasure of returning to the shady swing set in our own back yard, payment in hand: a soggy, juice-stained balsa-wood box tip-top full of warm, sweet berries.
By the time I grew up and had children myself, Dike and his wife had died and his lovingly tended strawberry fields had long since been subdivided into condominiums. It wasn't until twelve years ago, when I found myself alone in a rented cabin with my own two little boys, that I rediscovered the joy of berry picking.
I had rented the place on a whim, over the phone and sight unseen, envisioning swims in the lake, games of Old Maid on the screened porch, hot dogs cooked on sticks over a fire. I wanted time alone with Henry and Jack, away from the easy comforts of home and the distractions of our suburban neighborhood. Ever since my own parents had rented a small rustic cabin on the shore of Lake Winnepesaukee when I was a little girl, I'd been in love with cottage life. Some of my fondest childhood memories coalesce around that first passion and that unadorned place: the scent of pine, carried on a breeze through an open window; the slap of lake water on my face just moments after waking up in the morning; hours whiled away on a lumpy daybed on a screened porch, reading The Borrowers from cover to cover. I was hoping my sons would love what I had loved as a child, that they too would be enchanted by old books and whole days spent in damp bathing suits.
But this was June in Maine. And my sons were used to a little more structure than I had in mind. The cabin was remote; the lake water, inky black and freezing cold. We read for a while, huddled in blankets by the woodstove. They laid out a game of Strat-o-matic on the kitchen table. There were ants everywhere, and so we came up with ingenious ways to protect our food supply. By the morning of the third day, I was wondering what on earth we would do with ourselves for an entire week.
"Let's go exploring," I suggested after breakfast, hustling the kids into the car. "Let's just go home," Jack, who was seven, replied.
Strawberries saved us. Driving down the country road toward town, I spotted a sign: U-Pick. We pulled over, and within minutes the three of us were plopped down in the middle of a gloriously abundant row, the sun warm at our backs, the long, empty day salvaged by a new sense of purpose. My children, having come of age eating agribusiness berries, industrially grown and shipped to our grocery store from afar, were amazed. Who knew that a strawberry could taste so good?
We picked three heaping flats that morning and feasted on strawberry shortcake with freshly whipped cream, and hot chocolate, for dinner that night. In my memory, we ate strawberries and chocolate at every meal that week. We slept together in one bed to stay warm and never did go swimming even once, though I nearly drowned us all when a sudden, violent storm swept our tipsy canoe all the way across the lake and I found myself utterly unable to paddle against the wind back to shore. (Later, Henry managed to eke three school essays out of that near disaster, one of which he entitled, "The Worst Moment of my Life.")
My sons are grown now, our week in that isolated cabin just another bit of childhood nostalgia – though a memory my sons, amazingly enough, seem to cherish just as much as I do my own youthful recollections of endless cabin afternoons and quiet pleasures. In recent years, we created a new berry-picking tradition here in New Hampshire at a nearby farm that opens its fields to the public for as long as the crop lasts. Steve and I could usually coerce our teenaged boys to put in a couple of hours of picking on a Saturday morning, as long as there was a promise of shortcake for dinner. The effort was always worth it, more than worth it, and any initial grumbling would soon give way to the elemental satisfaction of harvesting sweet perfection. Who could possibly be grumpy while picking strawberries on a glorious morning in June?
This year, though, it was just two of us on our knees in the strawberry field. Henry is already gone for the summer, ensconced in his first post-college job, playing piano at a musical theatre on the Cape. Jack, who graduated from high school last week, is sharing an apartment in Cambridge for the summer, working at the studio where he's been an intern for the last two years. He'll come and go from home, but his sense of where he belongs now is shifting; slowly, over the last couple of weeks, he's been moving stuff out of here to there: his guitar, his speakers, a set of dresser drawers.
And so, carrying on our old tradition but in a new way, Steve and I got up early yesterday and headed to the farm. We played Cat Stevens on the car stereo and planned out the rest of the day – a few hours of hulling and slicing, the French Open finals on TV, an afternoon in the garden, omelets for dinner, and, of course, strawberry shortcake for dessert. I thought about how grateful I am to have a partner with whom to share the doings of an ordinary Sunday and, at the same time, I found myself wondering if I'll ever get used to the reality of our new, down-sized family.
In years past, the four of us could easily pick fifty pounds of strawberries in less than an hour; by late winter, they would all be gone, too. Yesterday, Steve and I agreed: twenty-five pounds would be plenty. There are, after all, only two of us now. And yet, still as always, what a treat it will be, some winter's night, to thaw out a generous heap of our own strawberries, sprinkle them with sugar, and ladle them over bowls of vanilla ice cream, each bite a redolent reminder of summers past and a promise of summer's eventual return.
The time has long since vanished when a family's survival depended on each member pulling his or her weight, hunting and gathering, planting and reaping, so that food would appear on the table at the end of the day. And yet, picking berries with my husband yesterday morning was a gentle reminder to me: our busy, complicated, human lives are still inextricably linked to the earth, and to all things there is a season.
Strawberry season — like childhood, like marriage, like life itself — is fleeting. Fail to pay attention, get too distracted by other things, and you'll miss it. And so, come June, I watch the weather and, with some sense of urgency, I mark off a Saturday for berries. Our days of family outings to the berry patch may have ended, but there is beauty in this new configuration, too, as I look over at my husband of twenty-five years, head bent to his work, peacefully filling his tray.
Again and again, these days, I find myself brought to this threshold between acceptance of what is and sadness for what's over. I can mourn the life chapter that has quietly, inevitably, come to a close, or I can choose instead to appreciate the modest, though no less meaningful, gift of what is — right here, right now. And so it is that I gather up my basket full of memories and resolve to carry it with a lighter heart. I want to make sure that I am present to this day and this place, so that I am able to relish this time alone with my husband, to savor the easy ebb and flow of our conversation as we load up our flats and fill our stomachs.
After all, the joy of berry picking is always, in part, the joy of the moment — the caressing breeze of a summer day, the ripe, rich smell of dirt and mulch and luscious fruit; birdsong, blue sky, good company. But it is also the bittersweet joy of acceptance, of knowing that this fine day, too will end, that summer bends inevitably toward fall, that little boys grow into men and leave home, that seasons turn and life changes and nothing lasts forever. I do know that, and I'm okay with it.
But I also know that when I sit down in frigid February to a bowl of fragrant strawberries picked in June, I will pause and marvel, grateful that in the simple act of picking berries and putting them by, we've managed to capture not only summer's lavish bounty, but a few good memories as well.