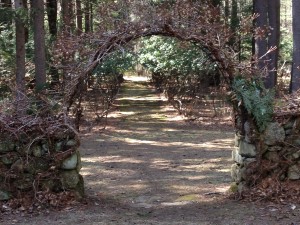 Her doctor told her she had, at best, two years to live.  That was nearly twenty-five years ago, when Kathy Rich learned that after a brief remission, her stage four breast cancer had returned.
My friend Jamie Raab knew Kathy and I would hit it off, and she was right.  Last summer, when I went to spend a weekend at Jamie's country house in upstate New York, she arranged for Kathy to come, too.
The day we spent together was a scorcher; ninety-eight degrees in the shade.  But the heat didn't stop Kathy from suggesting that we hop in the car and drive over to Rosendale, to walk around at a street festival and hear some music.
I was eyeing the pool, a novel I'd brought along, thinking it was way too hot to move, let alone fight the crowds milling around between a dozen outdoor stages.  But I kept my mouth shut.  Kathy was game, and she was the one with a leg brace, a crutch, a wig, and cancer.
The music was pretty loud and mostly awful, the heat was withering, but the people-watching was exceptional – it was as if we'd stepped back in time, landing smack in the middle of Woodstock Nation.  We wandered slowly, painstakingly, through a sea of tie-dye.  We watched girls in pig-tails and bikinis do amazing things with hula hoops.  We drank lemonade, bought silver earrings, marveled at the displays of peace signs and hemp tote bags and gauzy India Import blouses, just like the ones we'd all worn in high school.  We sought shade.  Kathy never complained, though it was obvious that each step required an effort, that it hurt her to walk, and that the heat was taking a cruel toll.  What she made clear however, without ever having to say so, was that pain was a price she was willing to pay for experience.
Later, back at the house, Kathy and I hung out for a couple of hours, while Jamie went off to buy groceries and pick up another friend at the train. Kathy asked if I'd mind if she took off her wig; on the hottest day of the summer, a thick helmet of someone else's hair on your head is its own particular form of torture.  When she came out of the bathroom a few minutes later in her bathing suit, she'd removed both the wig and the brace.  She seemed a lot more comfortable.  And heartbreakingly vulnerable.  Tiny, pale, completely bald, with enormous dark eyes and a dazzling smile, Kathy looked, I thought, like a luminously beautiful alien from another planet.  And in a way, that is what she was.  How does anyone live on this earth for twenty-five years after being told your time is up, without becoming a little other-worldly?  She'd had a foot on the other side for a long time.
To say she also had perspective on what's important in life is, of course, an understatement; what astonished me most, though, was the purity of her joy.  Sick as she was — and even though she knew the disease she'd somehow outwitted and outlasted for years was catching up with her at last– Kathy was also an eternal optimist; how, at this point, could she be anything but? And she was, quite simply, lots of fun to be around.
I slung one arm around her waist, held on to her elbow with my other hand and, laughing at my clumsiness, we somehow managed to hobble down to the pool. We lolled around in the water for an hour or so, talking as if we'd known one another all our lives.  Kathy was that kind of person — she cut right to the chase.  Right away, I loved her for that. Why waste time on social niceties when you can get down to the real stuff, life and death and the big questions, instead?  There was no subject I couldn't broach with her, nothing that felt off limits; who cared that we'd only met that morning?
"How long have you needed the brace, and the cane?" I asked.  She told me that, although there had been times in the past when she'd been bedridden, this new, apparently permanent disability was recent.  She was still getting used to being so visibly and so physically "handicapped."
"But you know," she said, "it's a funny thing.  When I started having so much trouble walking, what I found out there was just the friendliest world."
Kathy didn't stick around for dinner that night.  She was tired and wanted to get home before dark.  I remember watching her slip her wig back on, give it a little tousle and a quarter turn, so that one auburn lock hung down casually over her face.  We hugged good-bye, and Jamie told her friend she'd see her soon.  And then Kathy took her crutch and made her way out to her car, lowered herself in, and drove away.  I didn't see her again.  But I see her now, in my mind's eye.  And I know I will remember her always, a woman who knew all there is to know about living in the moment.
As most of you who are regular readers here are aware, I've been finishing work on a new book, trying to meet my deadline, which is now less than two weeks away. I've had to let the blog go for a while, in order to focus all my time on the manuscript.  But when I woke up this morning, and found a note on my phone from Jamie saying that Kathy had died yesterday, I knew I wouldn't get a lot of writing done today.  Instead, I took a long walk.  I went to my favorite spot in the woods to pray and meditate and listen to the wind in the trees.  And I remembered Kathy.  I knew her only for that one day, but in that short time, we managed to cover a lot of ground.  It feels odd to say it, but I feel as if I've lost a friend.  Certainly, all who knew her have lost a teacher.
Below is an essay Kathy wrote a few years ago for the New York Times.  I read it again early this morning, through tears.  I may have written a book called The Gift of an Ordinary Day, but Kathy Rich, more than anyone else I've ever met, knew just how much the present is really worth.
17 Years Later, Stage 4 Survivor Is Savoring a Life Well Lived
By KATHERINE RUSSELL RICH
Each year on a day in January — the 15th, to be precise — I go to a Web site and post a message to hundreds of women I've never met, saying, essentially, "I'm still here."
Within days, a thunderous chorus comes back, 200 voices, 300. A few of them ask, "How can this be?" Sometimes they begin, "I'm crying." Many answer in kind: "I'm here, too. It's now three years." "Five years." "Three months." "Seven."
What we're doing, in a way, is checking for lights in the darkness.
Now there probably aren't a lot of Web sites where the announcement that you're around and breathing would cause anyone to take notice, let alone respond. But this is a site for people with Stage 4 breast cancer, something I've had for 17 years. The average life expectancy with the diagnosis is 30 months, so this is a little like saying I'm 172 years old: seemingly impossible. But it's not. I first found I had the illness in 1988, and it was rediagnosed as Stage 4 in 1993. That's 22 years all together, which is the reason I post each year on the anniversary of the day I learned my cancer was back: to let women know that it happens, that people do live with this for years.
I tell them that when the cancer returned, it came on so fast, spread so quickly, that I was given a year or two to live. Within months, the disease turned vicious. It started breaking bones from within, and was coming close to severing my spinal cord.
Nothing was working, till a doctor tried a hormone treatment no one used much anymore, and the cancer turned and retreated, snarling. It remains sluggish but active. Every so often, it rears its head; when it does, we switch treatments and it slides back down. In that way, I stay alive.
I tell them: you just don't know.
Two and a half years after the Stage 4 diagnosis, I confessed to my mother that the doctors had said I had two years to live, tops. I'd kept this information to myself because if you say it, it's true. I told her this laughing, as if we were trading preposterous stories. "Well, I guess you're going to have to hold your breath if you're going to make that deadline," she replied, in her slow Southern drawl when I gave my previously stated expiration date.
I spent the next five years holding my breath, then did the same for another five. I enacted every New Year's resolution, past and future, all at once. Quit work that had grown stale and became a writer. Wrote a book. Went to India on assignment, fell in love with the language that was swirling around me, went back to live for a year and learn Hindi. Didn't realize the reason I'd come to dislike that hyperbolically overachieving Lance Armstrong was that his behavior was too familiar. Take a nap, Lance! I'd think to myself, though in truth I couldn't either.
But if I was verging on radical levels of life consumption, I had a reason: No one had told me I wasn't going to die soon. About 12 years out, my doctor finally did.
There's a small subcategory of people with Stage 4 breast cancer, it turned out, who live for years and years. "Twenty. Thirty," said my doctor, George Raptis. This group constitutes about 2 percent of all cases. Doctors can't predict who will fall into this category. They can't say you're in it till you're in it — till you've racked up the necessary miles.
The reason they can't is that for all the pink-ribbon hoopla, despite the hundreds of millions that have been poured into breast cancer research, hardly anyone has looked into the why of long-distance survival; not one doctor has specialized in this field.
Here's pretty much the sum of collective knowledge: People in this group tend to have disease that has spread to the bone (as opposed to lung or liver, say) and feeds on estrogen. They tend to do well on hormone treatments. End of commonly known story.
But as Dr. Gabriel N. Hortobagyi at M.D. Anderson Cancer Center in Houston told me, you can also find women whose breast cancer spread to organs other than bone, for whom hormone therapy did exactly nothing, who had their lesions surgically excised and who have been free of cancer for 30 years. None of these women could have expected to live.
You just don't know, and neither, unfortunately, does the medical field.
One reason, as the breast surgeon Dr. Susan Love told me, is that "many clinical trials are funded by the drug companies to run for five years," obviously not enough if you're investigating long-term survivors. But through her institute, the Dr. Susan Love Research Foundation, she has begun to conduct research.
Dr. Love said she was inspired by a colleague who told her that in World War II, aviation experts focused on planes that went down until someone said, "Why aren't we studying the planes that stay up in the air?" By no means a reflexive optimist, she thinks there's hope we'll find a cure.
On the Web site, I tell the women how deeply I believe there's no such thing as false hope: all hope is valid, even for people like us, even when hope would no longer appear to be sensible.
Life itself isn't sensible, I say. No one can say with ultimate authority what will happen — with cancer, with a job that appears shaky, with all reversed fortunes — so you may as well seize all glimmers that appear.
I write to them (to myself) that of course this is tough: the waiting to see if the shadows are multiplying, the physical pain, the bouts with terrible blackness.
"But there can be joy in this life, too," I say, "and that's so important to remember. This disease does not invalidate us. This past year, I've had the joy of falling in love with my sister's kids, who live states away and whom I hadn't had the chance to know. I've had a second book come out, one I worked on for eight years, about going to live in India with Stage 4 cancer. I've had so many moments of joy this year, but when I'm in blackness, I forget about those." Then I ask them to write and tell me about theirs, and lights begin to flash.
"Had a pajama party with my oldest friend, laughing through the night in matching pajamas about old times."
"Came in second in a bridge tournament."
"I went on a wonderful camping trip with my family."
"Seeing my older daughter grow taller than me. She's now 5-9."
One thing I don't ever think to say: When I was told I had a year or two, I didn't want anything one might expect: no blow-out trip to the Galápagos, no perfect meal at Alain Ducasse, no defiant red Maserati. All I wanted was ordinary life back, for ordinary life, it became utterly clear, is more valuable than anything else.
I don't think to say it, and I never will. The women on the site already know that.

Katherine Russell Rich is the author of "Dreaming in Hindi: Coming Awake in Another Language" and "The Red Devil: To Hell With Cancer — and Back."