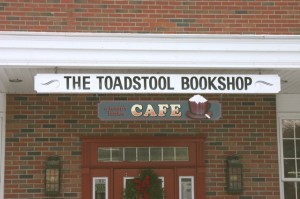 Every year at this time, I find myself thinking about how to make the holiday season simpler and more meaningful. More joyful and less stressful. A reflection of our family's values and what really matters to us, rather than a last-minute scramble to make sure there are enough wrapped packages under the tree.
Last weekend, while checking things off my to-do list downtown, I suddenly had a revelation: I am so lucky to live in a town where there still IS such a thing as "downtown."
And that's when I decided that, much as I appreciate the impulse behind the Occupy Wall Street movement, my own theme this holiday season is going to be: "Occupy Downtown."
My hometown is still a place where you can buy organic vegetables or a snowblower, a cup of pea soup to go or a fair-trade basket from Peru, art supplies or plumbing supplies, antique linens or a toy for a toddler, a hand knit hat or a pair of hiking boots, local honey or imported cheese. You can browse at the Toadstool, attend a poetry reading, eat lunch at the diner, stroll through an art gallery, and go to a movie. Or you can drop off your dry cleaning, pick up batteries and trash bags, bring a load of cans to the recycling center, and get your oil changed. Chances are, wherever you go, someone will know your name. The bag boy at the market will carry your groceries out to your car. The owner of the clothing store will know it's your birthday month and what size jeans you wear. The clerk in the bookstore will have saved the last copy of Joan Didion just for you.
This is the way small-town life is supposed to be. This is my definition of the good life. It is also a way of life that is vanishing before our eyes. If we want our downtowns to survive, we have to inhabit them.
"Out-sourcing" is not just something big corporations do, it's a habit I've fallen into myself. How often do I click a button and order from Amazon, instead of buying from a shopkeeper right here in town? More often than I like to admit. The truth is, I can buy every single thing I need or want locally. And yet too many of my dollars end up elsewhere, in the well-stuffed pockets of huge corporations that have no connection with my everyday life.
Well, I'm done. I care about the place I live and I care about the people who make this town the lively, vibrant, inviting community it is. These folks don't live on air. They depend on cash register receipts. Their stores can't continue to exist just for my idle sight-seeing and window-shopping pleasure; they need me — they need all of us — to walk through the doors and open our wallets.
And so, I vow here and now to Occupy Downtown this holiday season. I'm shopping in my own back yard, and no where else. I may buy less, but I'll feel good about where every dollar lands. I'll take time to chat with the shopkeepers and let them know how grateful I am that they're here. Simple. Meaningful. Stress free.
I invite you to join me. Occupy your own downtown. Swear off one-click ordering, and go out and see what that funky little shop on the corner has to offer. Our dollars have power. When we spend them locally, we put money back into the towns we love — for city services, road repairs, schools. We support the businesses that meet our needs and desires, that hire our neighbors, that donate to our causes, and that enrich our lives. And we connect face-to-face with real people instead of interfacing with computer screens and feeding the coffers of anonymous corporations.
A holiday gift for you!

I'd love to send you a Christmas gift from my town. Leave a note here and share the "Occupy Downtown" message someplace else — Facebook, Twitter, a blog, whatever. I will draw a name at random after midnight on November 23 to receive a special gift from my town.
And speaking of independent bookstores. . .

My dear friend Ann Patchett is doing a pretty amazing job of occupying downtown herself. When the last independent bookstore in Nashville closed its doors, she decided to open her own. But she's under no illusions; even a bookstore owned by a best-selling author can't exist without customers. As she says, "This is not a showroom, this is not where you come in to scan your barcode. If you like this thing, it's your responsibility to keep this thing alive."

Here's the whole story — page one of today's New York Times.