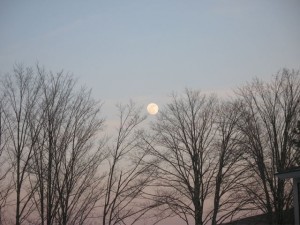 "If your daily life seems of no account, don't blame it; blame yourself that you are not poet enough to call forth its treasures. For the creative artist there is no impoverishment and no worthless place." — Rilke
I've been thinking about these words since I first read them a couple of weeks ago. What does it mean to be a poet of daily life? I often wish I were more creative, wish I possessed whatever spark of genius and imagination it takes to write fiction, to paint the landscape outside my window, to transform a garden bed into a tapestry of color or a fleeting moment into a poem.
And yet, much as I may aspire to make art, on a typical day the most creative thing I do is make dinner. I may practice yoga, talk intimately with a friend, do a good deed, or clean the bathroom – none of which strikes me as being very "artistic." But Rilke seems to suggest that even such humble tasks can be creative endeavors, so long as they are done with care. If we are truly paying attention, then perhaps life itself becomes a work of art. We call forth the treasures of our ordinary, everyday lives by noticing, by cherishing, by appreciating the beauty that is right in front of us. Which is to say that, viewed in the right way, through the right eyes, everything is extraordinary: the slant of honeyed sun falling across the floor, the speckled globe of a pear ripening on the sill, the orderly profusion of pottery mugs on a shelf, the rise and fall of voices in conversation around the dinner table, the November moon sailing through bare treetops at dusk.
This month, I've been most deeply inspired by the collaboration between three women I've never met and probably never will, and yet whose lives have come to feel interwoven with my own. The connection began with an email from a woman in Germany who had read "The Gift of an Ordinary Day," and had the idea to begin photographing daily scenes from her own "ordinary life." She invited two friends to join her. Each day or so, the women share intimate, unguarded glimpses of their lives in Upper Frankonia, Munich Bavaria, and the Island of Ruegen in Estonia: a foggy morning, a basket of laundry, chickens in the yard, a child at play, an orchid on a window sill. I study these images in search of the women who create them, sensing kindred spirits, like-minded souls, deep affinity.
What began for me as an interesting coincidence – a reader in Germany had somehow found her way to my book! – has come to feel like a spiritual connection that exists beyond barriers of time and place and language. Every morning when I turn on my computer, I'm grateful for these glimpses into lives that may seem perfectly "ordinary" to the women experiencing them but that are, to my American eyes, exotic and beautiful and, yes, poetic. I am honored to be invited in, and I am reminded to look more deeply into the unnoticed nooks and crannies of my own life, to illuminate them with attention and gratitude.
In the garden of our imaginations, we sow and nurture the reality of our lives. What we see, what we choose to notice, grows in value and in beauty because it is beloved. Thanks to the exquisitely graceful, generous work of three strangers, I feel a more intimate connection to my own quiet life in the New Hampshire countryside. And I am reminded, too, of the deep and mysterious connections between us all. We are all human beings sharing this blessed, fragile planet, caretakers of both people and place. Performing the humble tasks of ordinary life with love, we become poets of the everyday, calling forth the treasures that sustain our spirits and feed our souls. And what could be more creative, or more necessary, than that?
To visit A Glimpse of an Ordinary Day: three women, three lives, three locations, click Here.