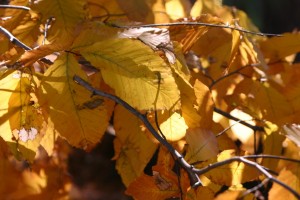 I've already received exactly what I asked for for my birthday tomorrow. I gave my sons Henry and Jack plenty of advance warning and then I was quite clear about my wishes: Handwritten letters, please. Not e-mails. Not hastily signed store-bought cards. Not presents. Just letters, from each of them to me.
Somewhat to my surprise, they both came through as requested — early, in fact. There are two sealed, handwritten envelopes sitting on the kitchen table at our house, and I can't wait to open them.
But there are many other gifts, invisible ones, that I find myself thinking about today. The gift of friendship, offered me daily in so many guises and gratefully received. The gift of good health, easily taken for granted until it's taken away. The gift of mindfulness, always elusive for me, yet always worth cultivating. The gift of gratitude, a choice I can make right now. The gift of the present moment, renewed over and over again without ceasing. The gift of breath — where would I be without it? The gift of marriage, constantly transforming and evolving, challenging me to become my best self. The gift of motherhood, which has shaped and sculpted every response I've had to life for the last twenty-one years. The gift of beauty, worth organizing a life around. The gift of memory, filling in all the empty spaces left by loved ones no longer here. The gift of presence, and the realization that there are so many ways to be present if I am really and truly willing to stay with what is. The gift of imagination, ready to take flight at a moment's notice. The gift of dreams, expecially the ones worth sacrificing for. The gift of silence — expansive, rich, and deep. The gift of touch, love made manifest. The gift of spirit, infusing all creation. The gift of wonder, mine whenever I take time to attune myself to mystery. The gift of kindness, may I offer it generously and accept it with grace. The gift of joy, that most precious and precarious of blessings. The gift of sadness, the measure of darkness that lends meaning to all happiness. The gift of connection, which I experience with every word and thought and good wish shared in this space.
To celebrate my birthday, I would like to offer you a gift — an opportunity to receive the audio version of my book, The Gift of an Ordinary Day, along with a copy of my favorite collection of poems by my very favorite poet, Evidence by Mary Oliver.
I have been reading and re-reading my own cherished copy of Evidence all morning, marveling as always at Oliver's wisdom, generosity, and grace. How pleased I am to share these poems with you, each one a heartfelt hymn of gratitude.
Here is just a taste, a short poem that speaks directly to me today, as I contemplate my own dreams and aspirations here at the beginning of my fifty-third year.
I Want to Write Something So Simply

I want to write something
so simply
about love
or about pain
that even
as you are reading
you feel it
and though it be my story
it will be common,
though it be singular
it will be known to you
so that by the end
you will think –
no you will realize –
that it was all the while
yourself arranging the words,
that it was all the time
words that you yourself,
out of your own heart,
had been saying.
–Mary Oliver
To be eligible for one of two copies of Mary Oliver's Evidence, along with an audio recording of The Gift of an Ordinary Day, leave a comment below. Tell me about a cherished gift in your life. Or, if you wish, just say hello. Your presence here is a gift to me, and I am deeply grateful!

I will draw two names at random after midnight on Tuesday, Oct. 11, using the tool at www.random.org. Winners will be notified by e-mail.