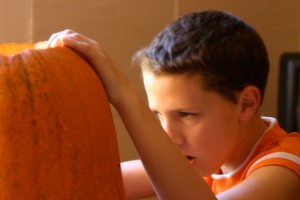 It's a pretty remarkable Halloween – two feet of snow are piled up outside the window, and the pumpkins are buried under white stuff.  I'm sure that, all over the Northeast, moms and kids are rethinking Halloween costumes, trying to figure out how to bundle princesses into parkas, whether a Zombie in a snowsuit still has a fear factor, how to convince a six-year-old that even ghosts wear boots.
Such parenting challenges are behind me, though I well remember the joy of a balmy Halloween night and, on a frosty one, the delicate negotiations required to keep everyone both reasonably warm and acceptably ghoulish.  My job this Halloween involves no face-painting or fright wigs, and it's been years since I donned my own witch costume and told a scary story to the neighborhood kids before they began their rounds. Back in the day, Jack would laboriously sketch various pumpkin faces on paper before taking knife to flesh; always, the final product was the result of much work and deliberation. This year, he's not carving a pumpkin, but the stakes for his Halloween labors are as high as ever.
As it happens, I'm sitting in front of my computer doing one final proofreading of my son's early-decision college application, due tomorrow.  He's putting the finishing touches on his last essay, and already this morning we have exchanged several phone calls and text messages and emails.  I may not have a clue, anymore, what he's doing in math or how to look over his French paper, but at least, in this one small realm, I have some chops.  I can provide a pretty decent editorial safety net.  And, given how little help he requires from me these days, I have to admit, it feels good to be needed.  Still, I do miss the days of fangs and fake fingernails, grinning pumpkins and gory masks.
This month, Good Housekeeping magazine reprinted a blog I wrote two years ago, about trying on Halloween masks with my son.  It was his first year away from home, and we were both still adjusting to that new reality – me to the empty nest, him to the structure and challenges of boarding school, a path he'd chosen and his dad and I had supported, but one that was demanding considerable growth and change from all of us.  The details of that day already feel distant, and yet I'm so glad I wrote them down. Jack and I get along really well these days, and the struggles of his sixteenth year feel like ancient history to us both.
Today, I'm glad to share this essay again, as a reminder of how time marches on, how love endures above all else, and how we are shaped and molded by small moments — and by our willingness to notice and cherish and remember:
Every year since my younger son Jack was three or so, we have tried on Halloween masks together.  It was always Jack's holiday, the plans for some elaborate costume taking shape weeks in advance, the scarier the better.

When he was really young, he was happy to go trick-or-treating in whatever sweet little outfit I dreamed up for him–a tiny vampire, a tiger, a pumpkin.  But the age of innocence didn't last long.  He wanted to be terrifying.  Whereas Henry was content to paw through a bag of cast off clothes or to grab an old dress out of my closet and stick a witch hat on his head at the last minute, Jack wanted a full-bore, frontal-assault sort of costume.  The kind that could not possibly be homemade, but absolutely had to be store-bought, preferably dripping fake blood.  He wanted a knife or a spear or a hatchet to carry, and would not be caught dead putting a jacket on over his black flowing garments, no matter how chilly Halloween night turned out to be.  The costume ruled.

Yesterday morning, Jack and I set out early with a shopping list he'd made the night before–all the things he's discovered he can't live without these days.  Tea bags, boxes of cereal, Clearasil, a hot water heater. . . We were efficiently checking things off the list — until we found ourselves alone in the Halloween section of Walmart. It was hard to resist pausing to critique this year's batch of outrageous masks. Jack pulled a clown mask over his head, and I slipped on a piece of zombie headgear, complete with creepy little arms dangling from the sides.  Pretty soon, we had tried on every mask on the shelf and contemplated a few mullet wigs as well.

Last year at this time, Jack and I were pretty much at a stand-off with one another.  His sixteenth year hasn't been easy for any of us, a time of tremendous growth and transformation, challenge and worry. We've fought about everything, had many intense heart-to-heart talks, and have worked hard over the last few months, each in our own ways, to find new, healthier ways to relate to one another. In a few weeks, he'll turn seventeen.  He's happy, doing well in school, nearly grown up. It is easy, once again, for us to enjoy one another's company.

Jack didn't buy a mask for Halloween.  But our detour down the mask aisle brought back lots of good memories for us both.  I realize that what I remember most clearly now is not all the actual Halloween nights of his childhood, but rather our annual trips together in search of the perfect mask.  And how, year after year I, a fully grown woman, willingly tried on ghoul and ghost faces for my son.  How much fun we had together, when I wasn't in a rush to get the job done, or to get somewhere else, but slowed down to his pace, and took the time to play and ponder.  That's what we did yesterday.

It felt, for a few minutes, as if he were just a little kid again.  "We've always done this," he said, as we left the Halloween aisle and headed off in search of batteries and earbuds. "Wouldn't miss it,"  I answered.