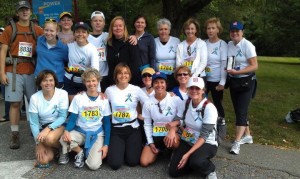 Driving out to Hopkinton in the dark on Sunday morning, it was hard to believe that we could possibly walk all that way back to Boston in one day. Hard to imagine all our fifty-plus-year-old bodies carrying us the distance we'd promised to go. Impossible to know how any of us would feel at the end of 26 miles. But it was easy to remember why were there in the first place, joining the throng of dedicated walkers: because we loved our friend Diane Brewster, and we knew without question that, had her cancer taken a different course, she would have been up at 4:30 that morning herself, tying on her own sneakers and walking in hope that the money raised might make the path through diagnosis and treatment a little easier for someone else.
Diane, who had to let go of so much toward the end of her life, held on tight to one dream, one vision: that the work she would have done with such passion had she lived be carried on by her loved ones after her death. To that end, she sat down a year ago and wrote her own obituary, carefully choosing her words to ensure that all gifts made in her memory come in the form of donations to Dana Farber's Ovarian Cancer Research Fund. In a lifetime full of hard work for good causes, her final gesture was significant. She chose to entrust those of us left behind with the task of carrying her legacy into the future.
I remember sitting with my friend one day last fall, as she debated whether to leave her family a to-do list for Thanksgiving, the first holiday meal they would have to prepare without her. She finally figured that, one way or another, they would manage to get a turkey to the table. And so they did. But I think we are all grateful that when it came to her wishes for how she wanted to be remembered, Diane left us with such clear marching orders. In the midst of grief and loss, it helps to have something to do.
There were eleven of us who had pledged to walk the Jimmy Fund Marathon route in memory of Diane, and nine more who jumped in at the half-way mark. The fundraising was behind us, done and exceeding all our expectations. It was a beautiful day for a walk. We talked and laughed and stretched and shared the Advil and the blister block. We texted friends who cheered us on from a distance and caught up with one another's lives and stories. Every kid got talked about. Every husband was discussed. Many good books and movies were recommended. More than once we paused to thank Diane — for bringing us together, for inspiring us, for letting us know exactly what she wanted us to do.
It took nine hours to walk from the center of Hopkinton to Copley Square. According to Kathleen's trusty pedometer, each of us took about fifty-two thousand steps. As we crossed the finish line together, to shouts of "Let's hear it for Team Diane," there were tears, but they were about so much more than loss and sadness. They were tears of gratitude and blessing and joy as well.
"There is no remedy for the sorrow of losing someone we love, nor should there be," writes Nina Sankovitch in Tolstoy and the Purple Chair, her memoir about the death of her sister. "Sorrow is not an illness or an affliction. It is the only response possible to the death of a loved one, and an affirmation of just how much we value life itself, for all its wonder and thrill and beauty and satisfaction."
She continues, "Our only answer to sorrow is to live. To live looking backward, remembering the ones we have lost, but also moving forward, with anticipation and excitement. And to pass on those feelings of hope and possibility through acts of kindness, generosity and compassion."
Acts of kindness, generosity and compassion – that's what Sunday's twenty-six mile walk was all about. The spirit of giving was everywhere: in all the people cheering us from the sidelines, in the elderly couple who stood outside their house offering orange slices to every person who walked by, in the college kids handing out water and snacks at the rest stations, in the crew making sandwiches under a tent at lunch time, in the waves and honks of encouragement from passing cars, in the fabulous dinner that Diane's husband David put on for all of us walkers at the end of the day, in the donations that continue to arrive even now, and in countless other gestures of support and goodwill. My heart is full and brimming over with gratitude and sweet memories.
Yesterday morning, on my way out of town, I stopped by the cemetery where Diane's ashes were buried last October. I sat on a chair in the sunshine and thought about what she'd said to me in our last real heart-to-heart conversation, a week before she died. I had just kissed her good-bye and was heading for the door when she called after me. "There is so much goodness in the world," she said, "so much goodness."
I've cherished those words ever since. And now, thanks to all the seeds of goodness that our friend sowed and nurtured and brought into bloom, I believe them.
Thanks so much to all of you who have supported me here with your donations, your words, your energy. I felt it all on Sunday! And because of you, I surpassed my personal fundraising goal and was able to contribute over $4,000 to Team Diane and the Ovarian Cancer Research Fund. Together we raised over $30,000, all of it earmarked for Diane's oncologist, Dr. Ursula Matulonis, and her continued efforts to battle this disease.