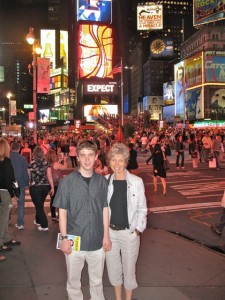 I was up at 6:30 the last two mornings, running in Central Park — the same route I used to follow most mornings before work back in 1987, when I lived in a one-room studio on the upper West Side. Being in my old neighborhood this week felt a bit like time travel — there, as always, were the dogs, cavorting in an an exhilarated frenzy of sociability, their bleary-eyed, solitary owners sipping cups of take-out coffee; there were the serious runners, buff men and lean women in coordinated spandex, speeding by me as I loped along in my t-shirt and yoga pants; there were the bikers, usually in pairs, hunched over their handlebars, slicing through space; there were the old folks, sitting on benches with the Times folded into thirds and breakfasts in brown paper bags.
My feet knew just where to go, each turn giving rise to a view that was at once surprising and utterly familiar. I've always loved running in the park, where the early-morning city vibe, coupled with my passion for people-watching, carries me much further than any sense of determination I ever manage to muster on the quiet back roads of New Hampshire. Put me down at the corner of 60th and 5th, just as the city's waking up, and I can run easily for an hour.
But it's been nearly twenty-five years since I could call myself a New Yorker, and as the years roll by I find it harder and harder to believe that this really was once my life, this city my home, and that I used to be one of those striving young twenty-somethings making my way and trying to figure out where I fit in the grand scheme of things.
"She's ambitious," a senior editor once said, warning my boss, I think, that he should watch his heels, that I might be after his job. The comment stung at the time; I thought of myself as hardworking, eager to please, dedicated and wanting to do well — but not ambitious. That word connoted cold-blooded calculation, a willingness to do anything to get ahead. It made me cringe. A small-town girl with no connections, I'd already concluded that the only way I could survive in the world of New York publishing — and still like myself — was to do it on my own terms.
I knew I wasn't the smartest young editor in midtown, or the most brilliant manuscript doctor, the best dealmaker, or the most desirable party guest. But I was pretty thrilled to have landed in the big city, pretty thrilled with my job, and I was more than willing to give it my all. At the same time, well, I was determined to be a nice person. I hoped that, in a town that could be tough and a business that was often more about names and numbers and who you knew than about literature, there might be some like-minded souls. Other young people who loved the written word and who felt grateful, as I did, for the opportunity to work with authors to make good books even better and then bring them into the world. Turned out that there were, and we found one another.
I was earning $11,500 a year and just barely managing to get by: an English muffin and a grapefruit half for breakfast, an expense account lunch (those were the days when even a junior editor was expected to be wining and dining somebody between the hours of twelve and two), and a cup of soup for dinner. My good friend Jamie Raab was in the same boat, trying to pay the rent and have a life on an editor's salary that afforded no extras. One Saturday we agreed that we'd both had it with trying to iron skirts on our kitchenette counters; we went to the hardware store together and treated ourselves to two tiny, apartment-sized ironing boards. I remember this purchase vividly because it seemed, at the time, both an enormous splurge and a significant step into adulthood.
I thought of those years as I ran through the park this week. Looking back, I realize now that the older editor who called me ambitious wasn't entirely wrong. But what she didn't know was that my yearnings were not so much for a place at the top as they were for a life that would one day be connected to a place. I didn't want to succeed in business nearly as much as I wanted to succeed in creating a life that felt like a fit with who I was inside. A life in which I would feel that I was truly at home. I knew even then that New York was an experience, a chapter, an important part of my coming-of-age story. And I also knew that I would never have roots there, that my deepest, truest ambitions would ultimately call me elsewhere — to a husband and children, to a slower pace, a quieter way of being, a connection to nature, solitude, a world far from the fast lane.
The wonderful thing is that the very path that led me away from New York all those years ago has now, in middle-age, circled round and brought me back there as a regular visitor. My dear friend Jamie, who counted pennies with me back in the early '80s and who set the standard for decency and kindness and intelligence in publishing, stayed the course and is now running Grand Central Publishing, publisher of The Gift of an Ordinary Day. If there is such a thing as a publishing family, Jamie has created it, and I am a lucky relative. Yesterday morning, I had breakfast with my editor, who has also become a dear friend in the years since we first talked about motherhood, the passage of time, and the joys and sorrows of children growing up and leaving home. Karen and I are exactly the same age. Our sons are the same ages. And our lives, which seem at first glance so very different (she represents, most certainly, the road not taken) turn out to be, in the ways that really count, remarkably similar. I may not be attending editorial meetings, doing deals, or racing for a train; she's certainly not shooing turkeys out of the yard, facing a blank page, or taking long walks at dawn with her dog. But we understand and empathize deeply with the challenges of one another's days and, what's more, we share the even more visceral challenges of age, empty nests, grown sons, shifting expectations and new priorities.
It is a stint as a literature panelist that brings me to New York every few months now. What's different of course is that I come as a visitor, often accompanied by Steve and a son or two; I do my work, savor all the city has to offer, and leave again. It is a wonderful opportunity, to move so easily after all these years between two worlds, to renew an old love affair with the city without questioning for a moment choices made or paths followed. New York has never looked better. I cherish every high-intensity moment that I spend there, and then I sigh with pleasure as I walk back through my own door — exhausted, sated, full of images and impressions and ideas, grateful to have gone, grateful to be home again, grateful to have a life that allows for such contrasts.
"I am rooted," wrote Virginia Woolf, "but I flow." Yes, I think, that is exactly right.