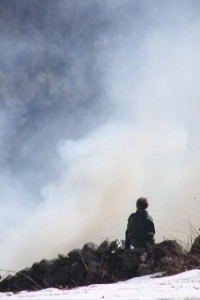 Unfortunately, there is still snow on the ground, even though it's April. Fortunately, a robin convention is underway in my front yard and there are crocuses blooming alongside the stone wall.
Unfortunately, I thought I'd been left off the guest list to a dear friend's surprise birthday party. Fortunately, it turned out that the hostess had an old email address and was wondering why she hadn't heard from me — just as I was wondering why I hadn't heard from her.
Unfortunately, I'd already made plans for that evening but, fortunately, I was able to stop by the party long enough to be part of the surprise, have a glass of champagne, and wish my friend a happy 50th.
Unfortunately, my son Jack and I had a horrible conversation on Friday that kept me awake, tossing and turning all night. Fortunately, he called the next day to set things right, and we both felt much, much better.
Unfortunately, a good friend is facing a frightening biopsy this week. Fortunately, he sat at our dinner table on Saturday night and was reminded how much love and support surround him as he takes the first step on this journey into the unknown.
Unfortunately, none of my son Henry's many applications have resulted in a summer internship or job offer. Fortunately, he decided yesterday to take a leap and attend a meditation retreat for pianists — a big step outside the box that may take him right where he needs to go.
Unfortunately, the huge brush pile my husband and I were burning yesterday sent a wild spark into the field. Fortunately, friends and neighbors came quickly to our aid and together we were able to stamp out the fire before damage was done.
Unfortunately, I was so sore and exhausted after a long day of hauling brush and tending raging fires that I could barely move my tired body off the couch last night. Fortunately, Steve made his own dinner and emptied the dishwasher and said, "Let's go to bed early."
Friends keep asking me: "What is it like, coming back to the 'real' world, after a whole month away?" So far, I have no good answer to the question. Life is what it is, what it's always been. I am who I am, the very same person I was before I had the lovely opportunity to practice yoga and meditation for eight hours a day. And yet, there is something going on here that feels a little bit different.
I think of a book that our family adored when Henry and Jack were small, a book by Remy Charlip called Fortunately, that we read aloud over and over again. "Fortunately," it begins, "Ned was invited to a surprise party.
Unfortunately, the party was a thousand miles away.
Fortunately, a friend loaned Ned an airplane.
Unfortunately, the motor exploded.
Fortunately, there was a parachute in the airplane.
Unfortunately, there was a hole in the parachute."
The charm and appeal of this wonderful picture book is the speed with which Ned's luck turns from good to bad to good again. He's up, he's down, he's up, he's down — until, of course, we realize right along with him that there's no point at all in judging any of the crazy things that happen to him as either "good" or "bad." They just are, and, at the end of the day, at the end of the book, we wouldn't have had it any other way.
And that, I think, is one thing I learned in my time away. I can continue to go through life keeping a tally sheet of the "good" stuff and the "bad" stuff, or I can let go of that kind of judging and comparing all together. As I practice simply being present, living in the moment that is right now, I come into a closer relationship with an inner self that is not at the mercy of every thought or fear or perception that passes through my busy mind, but that somehow stands apart, watching, abiding, and holding faith that everything will turn out fine in the end.
My "witness consciousness" is still a toddler, which is to say that this non-judging, non-reacting self is not terribly reliable yet. (That awful phone conversation did send me into a tailspin of worry and frustration, after all.)
Yet, I am growing fond of this quiet, less reactive part of me. I want to know her better, to encourage her presence. Sitting on my yoga mat, allowing my own breath to be a doorway into the moment, I realize how good it feels to place my trust in the rightness of things as they are. "The seed of suffering in you may be strong," writes Buddhist monk Thich Nhat Hanh, "but don't wait until you have no more suffering before allowing yourself to be happy."
What a simple, radical idea: allowing myself to be happy. I don't have to put happiness off, until some future day when everything is just as I want it to be. In fact, I can be happy right now, just by embracing what is — the whole messy, imperfect ball of wax. Instead of being buffetted about by a swirl of emotions, self-doubts, or fears, I can watch life unfold with an appreciative eye and a grateful heart.
The other day I had tea with my friend Pam. It was the first of April, and we were watching it snow — hard. "Never a dull moment," she said, smiling. So true. So obvious. So profound. As soon as I stop judging, complaining, comparing then I am free to become a full participant in the great swirl of energy that is life itself, with all its close calls and wacky surprises and unexpected twists and turns. Unfortunately, things never really go as planned. Fortunately, they have a way of working themselves out. Never a dull moment. I wouldn't have it any other way.