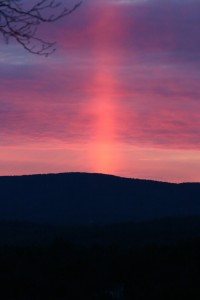 "Tug on anything at all," naturalist John Muir once wrote, "and you'll find it connected to everything else in the universe."
I sit alone at my kitchen table on this April Monday morning, waiting for the sun to slide up and into full view. I watch a pair of chickadees trading places at the feeder. And then I type these five words — "tug on anything at all" — and wonder, is it really that simple, is everything really connected to everything else? Am I but a single strand of thread, inextricably woven into some billowing cosmic fabric?
It is hard, given the pace of our lives, the needs of our loved ones, the demands on our days, to give ourselves the time it takes to sit still and go deep. Carving out even a few moments of such quiet time means attending to our thirst for contemplation, creativity, and solitude — a thirst that is all too easy to ignore when there seem to be so many other more urgent hungers and priorities competing for our time. I'm always amazed at how long it takes me to transform my own mundane, everyday experience into some kind of narrative that makes sense enough for other eyes to read. And not a week goes by that I don't question the validity of what I do. Is this particular reflection worth sharing with anyone? Why bother? And, really, who cares?
More often than not, when the choice comes down to writing or attending to some necessary, concrete task on my list, I choose to do what seems truly "productive": pay the bill, vacuum the floor, clean the fridge, check up on a sick friend. But I am learning to heed the quixotic call of quiet. Without much of an agenda or plan (oh, I'd much rather have a plan!), I allow my fingers to begin typing, just to see what I have to say.
Writing, staring out the window, writing some more, as the hours roll by and the dishes sit on the counter and the weeds multiply in the garden. Writing because it is the best, the only, way I know to investigate myself, to figure out what I think and how I feel and what matters right now. Writing because I do need to connect with some inner "me" and, even more, because I also need to reach out a hand and tug at something ineffable, something "out there" beyond my own orbit of thoughts and feelings and perceptions. Writing in order to remember that I'm part of something mysterious and vast and eternal. Writing to remind myself that, yes, I am connected to everything else in the universe.
You and I may not have met face to face, we might not even recognize one another on the street. And yet, I'm convinced that in certain ways that truly matter, we know one another. Our lives are indeed intertwined, our journeys shared, thanks in part to the power of the written word and the wonders of our wired age. Somewhere out there, you sit before your own screen — at a desk in a crowded office, perhaps; or on the sofa while a baby naps nearby; or in an attic room above the fray of family life; or hunched over a table in a coffee shop, waiting till your latte is cool enough to drink; or propped up on bed pillows for a stolen moment before sleep — and you read a few paragraphs on a blog written by a stranger who somehow feels like a friend. You are reminded now, as I am, that we're all in this together, come what may. And that, much as the details of our everyday lives may differ, when it comes right down to what resides in our hearts, we have so much more in common than not. "We read," to paraphrase, C. S. Lewis, "to know that we are not alone." I think I write for exactly the same reason.
This week over a hundred of you answered the question "How do you simplify your life?" Your responses are creative, surprising, moving, and immensely practical. Check out the comments section for inspiration.
Here, just a sampling:
*Make simpler meals
*Adopt a less-is-more attitude
*Listen more
*Say "no" to the things that don't nourish us
* Say "yes" to opportunities for togetherness
*Walk more and drive less
*Pick your battles and don't sweat the small stuff
*Mark off calendar time just for family togetherness
*Turn off the TV
*Get rid of smart phones
*Read out loud
*Let the dishes wait
*De-clutter daily
*Savor ordinary moments
*Limit activities to one per child
*Ease up on expectations
I will notify the two winners of the book give-away tomorrow. In the meantime, thank you all for your heartfelt notes, for sharing your lives with me, and for a wealth of wonderful suggestions and insights. As Kelly wrote: "My lesson learned is to embrace the moment and let the little voice inside you guide you. Trust that you really have the answers." Couldn't have said it better.
Mother's Day is May 8. Need a gift for a special mom in your life? I am signing Mitten Strings for God and The Gift of an Ordinary Day for Mother's Day. Click here to order your personalized, gift-wrapped copies.